While the country celebrated the "landmark success" of its grain output of 500 million tons last year, the severe snow in the past weeks has cast a shadow on the harvest this year.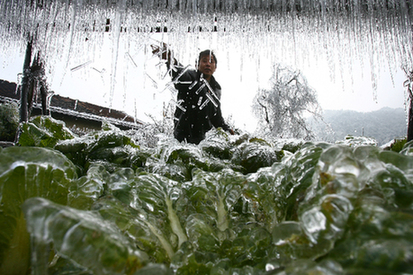 Farmer Zhong Dianqiang of Shaoguan, Guangdong Province, clears ice from his crops earlier this month. Most of the vegetable grown in the region were destroyed as a result of the blizzards. [China Daily]
Will farmers' income in South China substantially shrink after last year's rapid rise? Will the shortage of farming products push prices even higher?
Questions such as these may have vexed Premier Wen Jiabao and Agriculture Minister Sun Zhengcai, who has been crisscrossing Hunan, Guangdong, Guangxi and other provinces and regions where crops have been damaged by the severe snow.
Winter storms have heaped woes on central, south and southwest China since mid-January, leading to widespread traffic jams, blackouts and crop losses.
Official figures till Feb 14 show 10.5 million hectares of crops in 20 provinces and autonomous regions, or about 7.5 percent of the country's total plantation acreage, have been affected by the snow disaster.
The blizzards have also killed 4 million pigs, 393,000 cows, 1.38 million sheep and 63 million chickens and ducks in less than a month, causing livestock shortages and price rises, and hurting farmers' incomes.
Nearly half of the total cole produce, or about 3.26 million hectares, was hit by the freak weather, along with 2.81 million hectares of other vegetables, 1.26 million hectares of fruit trees and about 584,000 hectares of wheat.
"If we put the disaster in the context of global farming product supplies, we'll see how urgent and challenging our reconstruction work is in the agricultural sector," said Sun. "We are facing many problems and difficulties."
Sun pointed out that the areas hit by the blizzards are suffering from labor shortages in plantation as most young and capable laborers have migrated to cities.
Huge investment to improve the agricultural infrastructure destroyed by the snow will also worsen the local governments' financial situation, he warned.
The regions are low on supplies of seeds and stud stock and farmers badly need scientific solutions to cushion the disaster's impact, Sun said, adding that his ministry is tackling the crisis on all these fronts.
For example, the ministry has joined forces with China Mobile to send free disaster relief tips via mobile phones to farmers in the affected regions.
The Spring Festival break for the 3,000-odd graduate students of Beijing-based Chinese Academy of Agricultural Sciences have been extended. They were asked not to return to school but help their relatives in the countryside recover the losses.
Transport problems in some snow-hit provinces have led to shortages and price rises of vegetables there, mounting even more pressure on the inflation rate.
Between Feb 6 and Feb 12, 170,000 tons of vegetables were transported to 14 snow-stricken provinces, including Jiangsu, Hunan, Anhui and Guizhou, to ease the shortage of fresh produce and inflationary pressures.
Sun Minchun, an economist with Lehman Brothers, said farmers in the disaster-hit regions have not only suffered income losses but also have had to deal with rising food prices. As the snow hit transport, it caused shortages in food supply, especially of vegetables, he said. As a result, vegetable prices rose 13.7 percent year-on-year in January, compared with 9.5 percent in December.
"We expect the inflation rate to peak at 7.5 percent in February as a result of the snowstorms and the (added demand from the) Chinese New Year," Sun said.
Grain security
The National Development and Reform Commission (NDRC) recently announced the minimum procurement price for wheat and rice in 2008 will be raised slightly to protect farmers' interests.
The announcement said the minimum procurement price for different types of rice ranges from 75 yuan (US$10.4) to 79 yuan per 50 kg; while that for wheat ranges between 70 and 75 yuan. Last year, the minimum procurement price for wheat and rice stood at 69 to 72 yuan and 70 to 75 yuan, respectively.
China started to set minimum procurement prices in 2004. When prices are too low in the market, the government buys wheat and rice from farmers to mitigate their losses.
After producing 300 million tons in 1978 and 400 million tons in 1984, China harvested 500 million tons of grain in 2007, achieving production growth for four straight years.
Sun said the output still failed to meet domestic demand for the year and the country was forced to impose duties on grain powder at the start of 2008 to limit exports and ensure domestic supply.
But Chen Xiwen, head of the Office of the Central Leading Group on Rural Work, said the snowstorms, the worst in five decades in China, had a limited impact on grain production as most winter grain crops were planted in North China.
The State Grain Administration (SGA) even said China's grain output this year will be stable around 500 million tons if no major natural disasters recur.
However, weather disruptions frequently hit China. Last year, a long-lasting drought, the worst in a decade in the country, caused losses of 37.36 billion kg of grain.
Xinhua contributed to the story