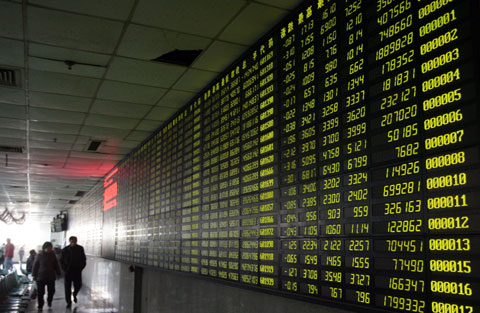 Investors walk past an electronic board showing stock information at a brokerage house in Nanjing, Jiangsu province February 22, 2008. China's main stock index plunged more than 3 percent on Friday, with selling pressure intensifying after the index dropped below a level which many analysts consider important technical support. [Agencies]
China's stock market ended Friday with a sharp loss, amid concerns of new monetary tightening and a bigger supply of shares.
The benchmark Shanghai Composite Index fell 3.47 percent to close at 4,370.28 points, below the annual moving average which was deemed a division between a bull and a bear market.
Investors feared the central bank might order a hike in interest rates as early as this weekend in an effort to fight inflation which hit 7.1 percent in January from a year earlier, the highest level in 11 years.
China usually announces rate changes during the weekend, thus giving rise to the so-called "weekend effect" in the country's equity market, which tends to fall sharply on Fridays at times when there is inflationary pressure.
Since the start of 2007, the central bank has made six increases in interest rates and 11 in bank reserve requirement ratios to curb inflation and keep the economy from overheating.
A series of announced plans for secondary offerings also weighed on investors' sentiment at a time when there is already a lot of pressure on liquidity.
More than 20 listed firms have made public plans to sell new shares since Ping An Insurance said late January they intend to raise more than 100 billion yuan in new share-sales. These companies hope to get some 200 billion yuan through the sale.
The start of a 15.87-billion yuan initial public offering by China Railway Construction Corporation (CRCC) on Monday also contributed to the fall, as investors dumped shares to get cash ready for these subscriptions.
Adding to the pressure, the lock-up period for more than 10 billion shares in more than 30 companies expired this month, before another 10 billion shares become tradable next month.
Oil shares were among the worst performers. Sinopec dived 5.7 percent to close at 16.87 yuan per share, followed by a 3.71 percent drop in PetroChina to 23.13 yuan.
Financial shares were also hit hard. China Life fell 5.33 percent to 37.86 yuan, while Industrial and Commercial Bank of China dropped 2.57 percent to 6.45 yuan.