Reinventing a rural lifestyle
On a typical morning, villagers wake up early and prepare breakfast for their guests.
The morning market is something one should not miss.
It was filled with people, and local specialties and fresh vegetables are displayed for sale.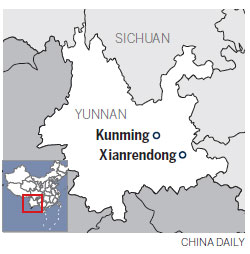 The crowds begin to thin out at around 11.
Meanwhile, the Puzhehei scenic spot where Xianrendong is located now attracts a lot of attention.
It came into prominence after it was featured in the hit reality show Dad, Where Are We Going? in 2013.
Liu Zhao from Chengdu the capital of Sichuan province, says: "It's a great place for a family trip, and has made my visit worthwhile."
Liu brought his wife and six-year-old daughter to the area for the summer vacation.
He got to know of the place through the reality show.
The area is very family friendly
While children can play at a playground at the end of the village, adults can hang out at local inn, savoring red wine, or cycle along the river and admire the pristine natural environment featuring karst landform, willow trees and a profusion of lotus.
Some visitors splash water on each other, while others join dances initiated by locals.