Reinventing a rural lifestyle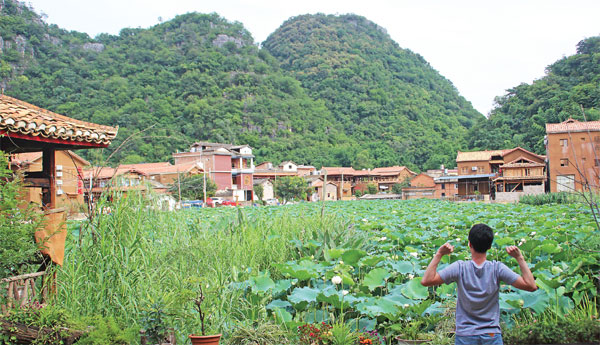 A visitor was taking in the view of Xianrendong from a local inn. Photos by Yang Feiyue / China Daily
Xianrendong village, which drew 3 million visitors last year, once faced a shortage of food.
Twenty years ago, Xianrendong was a village which was short of food. There were basically no industries, including tourism. Local villages mostly could only rely on meager incomes from growing crops on their own small patch of land.
But now, as we took a boat to the village early August, we could see yellow-brick houses of two or three stories at the foot of green mountains as we traveled along a shimmering river to get there.
Besides, lush grass laid siege to the houses.
The villagers wore big smiles and gave us a warm welcome as we stepped ashore.
The village, which sits in Qiubei county in the Wenshan prefecture of southwestern China's Yunnan province, is home to 196 households and comprises the Sani people belonging to the Yi ethnic group.
"Most of us earned only 300 yuan ($45.1) each in 1993," says Fan Chengyuan, a local villager.
"But now our annual income can be as much as 30,000 yuan."
Fan was one of the first in the village to escape the poverty trap.
The 36-year-old worked as a tuner at a hotel in Qiubei for six years from the age of 9, and during this period he studied catering and hotel services.
He opened a restaurant in his village after he left the hotel becoming one of the few locals who had their own business.
Later, in 2005, as he sensed that local tourism was set to grow, he built farmhouses with his 1-million-yuan savings.
His bet paid off as the number of visitors began to surge in the following years.