Grandfather clocks up miles after developing global 'travel addiction'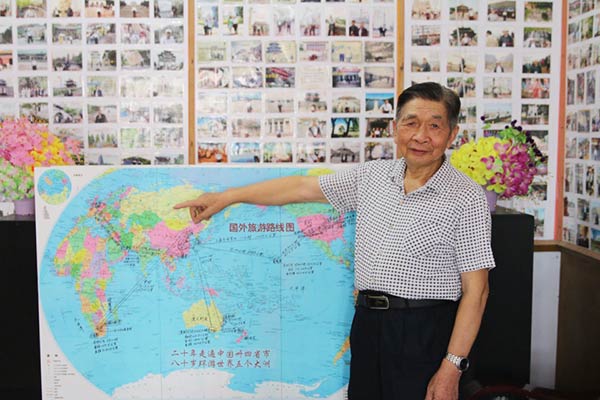 Yi Jiufan, 81, points to Russia - his next intended destination - on the world map at his home in Changsha, Hunan province. Since retiring, he has traveled to five continents. Feng Zhiwei / China Daily
Age has proven no barrier to Yi Jiufan's wandering ways.
Despite being 81 years old, since retiring two decades ago, this grandfather has visited five continents and covered pretty much all of China on his travels.
Yi, who owns a small business in Changsha, capital of Hunan province, began his odyssey in 1994 with a trip to Beijing for his 60th birthday.
"Since then, I've been addicted to travel," he said. "Gradually, I've traveled through the whole of China."
After a trip to the United States in 2008, which took him on a helicopter ride over the Grand Canyon, he decided he wanted to see more of the world.
He says he has seen penguins in South Africa and toured the picturesque rural landscapes of New Zealand and the Netherlands, although he says one of his only regrets is missing out on a submarine ride in Hawaii.
Yet nothing compares with his home province, he added. "When it comes to natural beauty, there is no place like Zhangjiajie," he said, referring to the mountainous scenic area in Hunan that was the inspiration for Hallelujah Mountains in 2009 movie Avatar. "It's the best in the world."
Yi's wife, Zhang Yuqing, 73, has supported her husband's wanderlust.
"I like traveling, too," she said. "But unfortunately I'm not capable of traveling abroad after having surgery on my leg."
The couple plans to visit Russia together once Zhang is fully recovered.
They are constantly reminded of Yi's exploits, as three walls of their home in Changsha are entirely devoted to his travel photography.
The walls are divided into 16 sections, each representing a different area of the world. By the door hangs a card that some of Yi's travel companions made for him in case he gets left behind while taking photos.
The card's note reads in English: "I come from Changsha, Hunan province, China. Got lost traveling and I need help."
Yi is among many senior Chinese citizens using their twilight years to see the world.
Chen Aiwu, 64, from Wuhan in Hubei province, embarked on a 19-day self-drive tour of the western US with her husband this year, while 65-year-old Wang Zhongjin from Beijing has backpacked across all seven continents with her husband.
Liang Shuang contributed to this story.