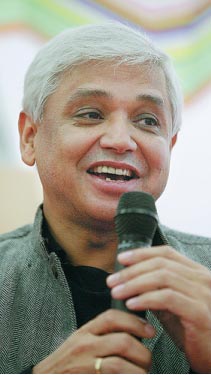 Indian writer Amitav Ghosh is known for his Ibis trilogy. [Photo provided to China Daily]
Amitav Ghosh spent a part of August in China's south and east familiar to some of the characters of his
Ibis
trilogy. But unlike the greedy opium traders of his novels, he was there for a different purpose-giving talks at bookshops, meeting local writers over tea, signing copies of his books and taking photos with fans at a fair.
The Indian author has paid previous visits to China mostly to study the 19th-century opium wars that forced the country to open its ports to Western powers and cede Hong Kong to Britain, a period many historians call China's age of humiliation.
Ghosh's first book of the famous trilogy, Sea of Poppies, made the Booker shortlist in 2008. It is also his first work to be translated into Chinese. Ending with Flood of Fire, the trilogy follows the voyage of the schooner Ibis from British India toward the Chinese province of Canton in present-day Guangdong.
In an Antique Land, which is his nonfictional account of Egypt, and River of Smoke (second in the trilogy) are available in Chinese as well. A Chinese version of Flood of Fire is likely out soon.
His next nonfiction, expected to be released by July 2017, will explore cultural relations between India and China in the 19th century.
In an interview to China Daily in Beijing, Ghosh describes such relations as "dense but occluded".
"I'm not going to give away all my surprises but (there are) lots of little things ... if you follow, say, the journey of tea and the myths that are associated with tea, it is such a complex set of relations," Ghosh, 60, says when asked what the book would seek to bring out.
Tea cultivation in colonial India was intended as an economic weapon by the British to supplant China's tea industry, he says.
And, opium's role was far sinister.
The British economy in the 18th and 19th centuries was so reliant on tea that they "had to find something" to export to China, which is when poppy cultivation in India was expanded, he says. The British East India Company processed opium in factories employing Indian labor, in a trade that continued for decades, fueling the addiction of multitudes in China and financing London.
"Tobacco was the vector on which opium spread in China," Ghosh told a gathering of expats and Chinese at the Bookworm store in Beijing earlier this week.
The Chinese authorities started to ban opium abuse in the 1760s.
Answering audience questions on American involvement in the China trade, he said that the American economy benefitted from opium money at the time.
Ghosh showed artwork of opium-making units in eastern India; the ferrying of the substance from India to Ceylon (now Sri Lanka), then through the Malacca Strait to Singapore, and to the Pearl River before hitting the streets of Canton. The British fleet for the first opium war with China over 1839-42 was assembled in Singapore.
He spoke of a Canton enclave where foreign traders, even Indians, lived. It was burned down in the second opium war in 1856.
The trust issue between China and India today stems from colonial politics, Ghosh tells China Daily.
In the northern Himalayan region and central Asia, Britain was playing the "great game" in the 19th century-intrigues designed to thwart Russia and China, he says.
"But it's also colonial legacy in a bigger sense, which is that both India and China were nation states coming into being in the aftermath of decolonization."
Suggesting that diplomats need to find the way forward in relations, he said, "Both India and China have interests at stake, both India and China are big countries which will often tread on each other's toes, this is normal when you have two big neighbors."
The first opium war led to the overthrow of the Qing Dynasty (1644-1911). The emergence of modern China and contemporary Asia can be traced back to the war in the same way that the emergence of modern West is usually traced back to the French Revolution, he says.
Ghosh, who lives in New York and Goa, studied in New Delhi, Oxford and Alexandria. He has taught at Harvard University. In a career spanning three decades, Ghosh, among India's finest authors, has published eight novels and a bunch of nonfiction writings.
Related: