Reinventing a rural lifestyle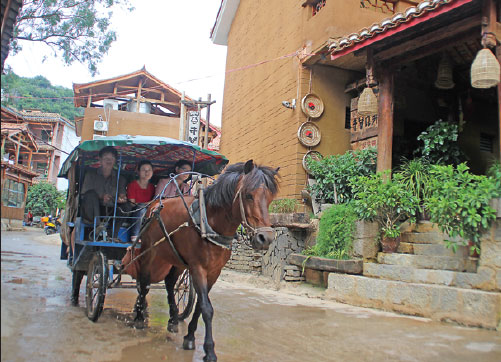 A horse wagon passed by a road in Xianrendong village.
Soon, there weren't enough rooms.
But problems followed too.
Soon, everything descended into chaos.
There was no proper sewage system in place.
And, many villagers blindly took down their houses and tried to build tall modern-looking buildings, which were not consistent with the surrounding scenery.
Fan was elected head of the village in 2012 and tried to make things right.
He guided the locals to build folk hotels.
Soon, private folk hotels sprung up across the village, and became a well-known tourism attraction in the county.
"High-rise buildings shouldn't have been built in a village, where only folk dwellings fit" says Fan.
Fan's own hotel Chachaya covers an area of 700 square meters and offers 11 rooms.
Business has been brisk and Fan's bank mortgage of 2.6-million-yuan has basically been paid up.
Now, the village is showing signs of prosperity.
There is no foul smell of sewage, and parking lots have been built.