Wondrous delights in NW Shanxi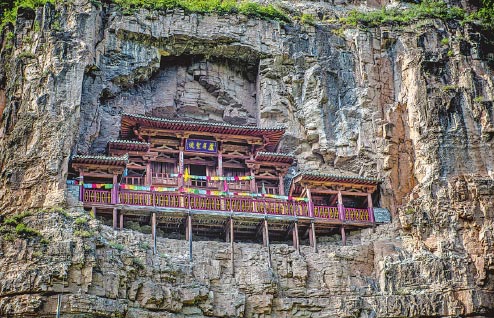 Hanging Temple in Ningwu dates back to the Tang Dynasty (618-907). It was built via a narrow access path that uses wooden poles inserted into holes in the practically vertical cliff, covered with wooden planks, more than 100 meters above the ground. [Photo by Khalid Sharif/China Daily]
The soldiers who were assigned to protect the son and the area, which is about 2,300 meters above sea level, all changed their family names to wang and the village got the name Wanghua. Unfortunately, the father committed suicide and the son died only a few years later out of grief, but the village stayed on the remote mountain.
It was a bit hard to find and, even after the founding of the New China, government leaders still considered the remote mountain area a difficult place to locate so they used it as an arsenal, although that's long abandoned.
One 69-year-old villager, Wang Runquan, told China Daily that he's been delighted to see more tourists in the area in recent years and the local government doesn't impose taxes on them if they open teahouses or restaurants to serve the visitors.
At the same time, sadly, many of the 160 villagers who previously lived there migrated to cities looking for a better life, leaving behind mostly elderly people amounting to not much more than 20 and the youngest of them is above 40.
Wang said: "Most of the houses are empty and the land is overgrown with weeds, so it's really fortunate to see a growing number of tourists. They like the village's history, the mystery of the nearby coffins and the rarely seen hanging temple, and it's a great place for them to stay, here in our simple village."