Arctic life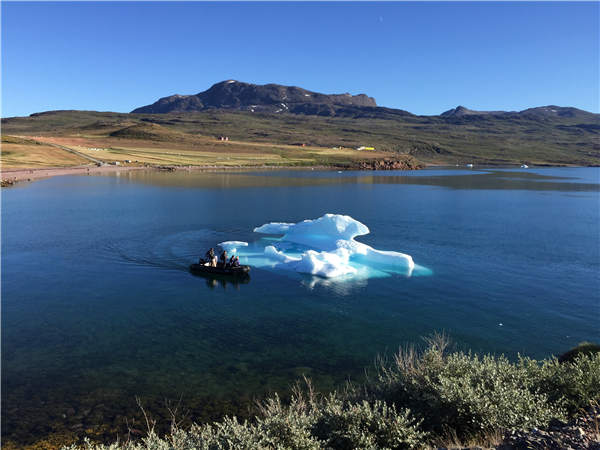 Tourists approach an iceberg on a raft in a harbor inlet in Greenland. Photos by Mike Peters/China Daily 
After a serene voyage highlighted by glaciers and whale sightings, Greenland's capital of Nuuk offers surprisingly civilized charms, Mike Peters discovers.
Somebody on this cruise ship has a gun.
He didn't sneak through the airport-style security at the ship's gangplank when we boarded.
He's part of the crew, a sort of game warden who was on this Arctic cruise ship's earlier leg, which passed through the polar-bear habitats of northern Norway.
His job in remote ports along the Arctic Circle is both to protect shore-going passengers from polar bears and vice-versa.
At this point of our cruise, which began aboard the Silversea Explorer at Reykjavik, Iceland, we have swept along Greenland's southern coast, where the odds of seeing a polar bear are very remote-especially in summer. The wildlife sightings that lure passengers to the rails are less fearsome: whales, reindeer and seals.
The ranger's gun is behind the bar.
This morning, after several days of stops at tiny villages and a Viking ruin, we've landed at Greenland's capital, Nuuk. The population is 16,000; since there are only 53,000 people in the whole country, it's a big city.
Our guide in the city is named Salik, but he really wants us to think of him as an average Joe.
"Life for me is like that of a city dweller anywhere," he insists.
In many ways, this picturesque city itself is eager to be typical of the modern world. There are grocery stores, offices and coffeehouses. The fine-dining restaurant, Sarfalik, starts its set-menu dinner with an amuse-bouche of foie gras with gooseberry and arugula leaf on a small lava rock.
However, the hunter-gatherer life of the native community is never far below the surface.