Wondrous delights in NW Shanxi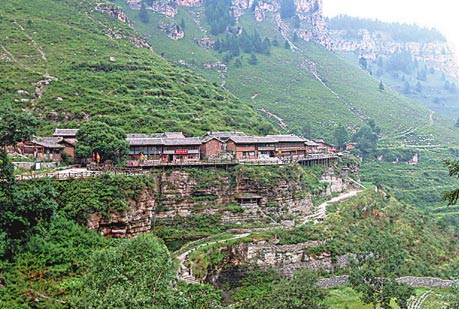 Hanging Village in a mountainous area in Ningwu, Shanxi province, is 2,300 meters above sea level. [Photo by Jiang Dong/China Daily]
North China's Shanxi province has plenty of wonderful sites and sights, but three particularly unusual ancient relics and strange bits of architecture that have been around for hundreds of years are a cliff temple, hanging coffins, and a village built on the face of a cliff in the Luya Mountain Scenic Area of Ningwu county, that can all be visited within a day.
The three are a great choice, even compared to the rest of the delights the country has to offer and are located on a somewhat remote mountain but have good access.
They're within an hour's drive, about 30 kilometers, of downtown Ningwu and 180 km to the northwest of the city of Taiyuan, the provincial capital.
That drive from Taiyuan is itself interesting as it takes you through small towns and villages through some undulating countryside cut with steep ravines in the loess soil and endless fields of green planted with corn and other vegetables growing on plots of varying sizes.
The hanging temple was built with the help of an interestingly ingenious plank road no more than 2 meters wide that dates back to the Zhenyuan period (785-805) of the Tang Dynasty (618-907), a prosperous and fervent period for Chinese Buddhism. It was constructed out of wooden poles inserted into bore holes in the practically vertical cliff then covered with wooden planks, more than 100 meters above the ground.