Wondrous delights in NW Shanxi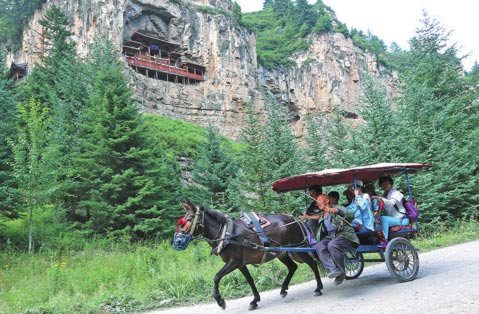 Residents transport visitors by horse to the Hanging Village, with the Hanging Temple seen just above their heads. [Photo by Jiang Dong/China Daily]
It ran for more than 21 km in the olden days, and connected a number of temples and pagodas, the locals told us, but few of those temples and pagodas remain today.
There is, however, a unique one built into a cave on the cliff, during the Tang dynasty, supported by wooden pilings.
It took members of our group more than 20 minutes to climb the steep steps to the hanging temple, which has two floors.
It gained its name from its location and, interestingly enough, the temple is not only for Buddhists but also for devotees of Confucius, making it somewhat of a rarity. The simple local folks worship different gods in hopes of improving their lives.
There is a similar but more famous temple in Hunyuan county, about 180 km to the north of Ningwu, which was built in Northern Wei Dynasty (386-534). But, during the popular season it sees many tourists flocking there and making the stairway, which is narrow, exceedingly crowded.
This temple in Ningwu, which is less known, provides an opportunity to enjoy the temple view in a much more relaxed way even if it can be somewhat unnerving for some to be up there on the narrow cliff face.
The temples got their name, xuan kong si, because of a dream the emperor had of having a temple up in the clouds, with the added benefit that it can represent the heavenly, noble thoughts contained in the sutras.