City of Springs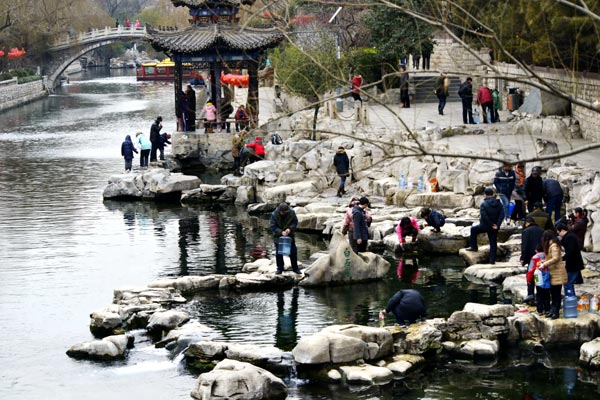 Residents draw water from Baishi (White Stone)Spring in Jinan, Shandong province. [Photo by Ju Chuanjiang/China Daily]
Suburban farmers use the springwater from the river to irrigate farmland, producing the best rice in northern China and wild fish, crabs and shrimps from the river also helped the locals overcome several famines in recent history.
The Xiaoqing River has served as the most important transportation waterway connecting Jinan and the coast before the German colonists built the Jinan-Tsingtao railway in 1904.
The Daming Lake and Xiaoqing River as well as the small canals and ditches, which extend to every family like blood capillaries, form an efficient drainage system in case of internal water-logging.
Jinan was less-known and less-developed than some big cities in China. But the locals seem more content with their cozy lives than their counterparts in Beijing and Shanghai.
They say Confucianism brings them inner peace, as Jinan is only 100 kilometers north of Confucius' hometown of Qufu.
But one thing they may not realize nurtures the unique local ethos is the springwater, "a gift from the heaven", as many locals put it.
"We drink it, wash with it, swim in it, transport goods on it, eat fish from it, appreciate it, write about it, sing about it and cherish it," notes an old resident Li Xiaoyong in his 80s, who grew up near the water exit of the Daming Lake.
"Water, in its nature, teaches the human to be modest, forgiving, perseverant, honest, clean, simple and selfless. That is also the family instructions in Jinan."
Local newspapers run weather forecast and groundwater levels every day. Once the groundwater level approaches the warning line, especially in drought seasons, which is set to protect the springs, the whole city will be mobilized to save water and protect the springs.
"The deafening gurgling sound of the Baotu Spring is the heartbeat of the city," says a local resident. "So you know what the springs mean to us."
If you go:
Jinan is conveniently connected with all major Chinese cities by airline, rail and road.
The Black Tiger Spring is free to visit. And the ticket price for the other spring parks and Daming Lake ranges from 20 to 80 yuan ($414), depending on different seasons.
Spare one day to take a stroll in the old city of Jinan to feel the physical and spiritual connections of the springs, the people and the city.