City of Springs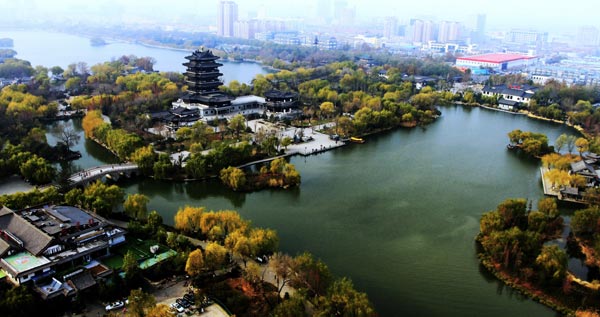 Jinan has a civilized history of 2,400 years. The current city format was designed in the Tang Dynasty. The ancient city planners constructed a delicate waterway system collecting the springwater from almost every community in the old city with small and big, sealed and open, canals.
The buildings, yards, roads and bridges made it easy for residents to obtain springwater from the canals for drinking and daily use.
Willows and lotuses are planted everywhere in the city along the waterway and beside the spring pools.
Some big springwater pools, such as the Wangfu Pool, measure nearly 1,000 square meters and are popular "water parks" for the adults and children throughout the year. They're part of happy childhood memories for many adults today.
"I met my wife here during winter while swimming," recalls a local resident in his 50s, who lives beside the Wangfu Pool. "Springwater is part of the neighborhood. All families teach the children not to throw trash or pour wastewater into the spring waterway."
The sewage system is separate from the spring waterway. Not a single drop of spring water is wasted.
The four spring groups and dozens of other small springs located in the old communities are still connected by the ancient waterway system. After feeding the residents, the springwater flows into the city moat to help protect the city.
There is a big lake called Daming Lake, with an area of 57 hectares, occupying the northern half of the city and collecting all springwater from the city moat. The lake is picturesque, with a number of ancient temples and houses surrounding it, making it a national tourist resort.
There is a 3-meter-wide outlet for the lake water in its north, which leads the water to the Xiaoqing River, a river originating from the springwater in Jinan and meandering over 200 kilometers to Bohai Bay.