Love trips with lanterns and lengends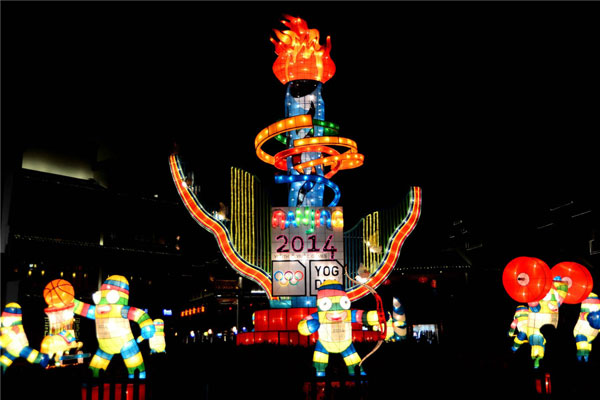 A lighted display of the Olympic torch is part of a light festival at Nanjing Confucius Temple along Qinhuai River, East China's Jiangsu province on Jan 27, 2014.The festival will continue until Feb 17.[Photo/Xinhua]
If it's just for Valentine's Day, a candlelight dinner with some wine at a restaurant in central Beijing's Houhai neighborhood or a night-time stroll along the famous waterfront of the Bund in Shanghai may be romantic enough.
However, when China's Lantern Festival coincides with Valentine's Day, you may want to try something really special.
The Qinhuai River, a branch of the Yangtze River that runs through central Nanjing, east China's Jiangsu province, is definitely a good place to watch the lantern display and appreciate the festival traditions.
About 300 km away from Shanghai, the river used to be a red-light district famous throughout the nation in the Ming and Qing dynasties.
Though shuttling boats with red lanterns and beautiful geishas were already historical things, the tradition of enjoying lanterns and guessing riddles along the river bank has been inherited till now.
A night trip on one of the gaily painted pleasure boats, with flickering city lights and lanterns in the distance, is also a romantic way to imagine how prosperous the city used to be when it served as ancient capitals of six imperial dynasties.
The Confucius Temple, at the center of the scenic belt of Qinhuai River, is renowned for traditional local cuisine. Small restaurants line both sides of the Snack Square, offering delicacies such as duck's blood soup, small steamed buns and glutinous rice dumplings with red beans.