Exploring China's spring destinations
The Cherry blossoms of Kunming, Yunnan province
Located in the northeast corner of Kunming, Yunnan province, Yuantong Hill is the most popular park in the city.
It has been a tradition for Kunming locals to climb Yuantong Hill in order to find themselves lost within a world of flowers. Among the 18,000 square meter area, millions of cherry and crabapple blossoms form a pink sea of color from late February to the middle of April. The flowers here look like bells hanging on branches, swaying with the wind while exuding an intoxicating scent.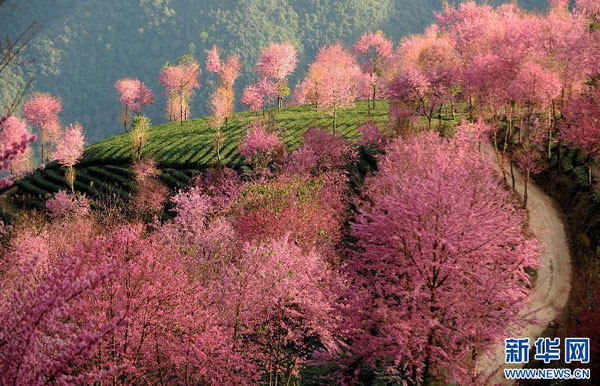 Photo taken on Dec 9, 2012 shows the scenery of blooming flowers in Nanjian Yi autonomous county, Southwest China's Yunnan province. [Photo/Xinhua]
Next to the sea of flowers is a zoo, which features more than 500 species of animals, and is always a popular family attraction.
On the hill there is also Yuantong Temple, the town's largest Buddhist temple. Visitors can enjoy the charm of Tang Dynasty architecture while making wishes to Buddha.
If you go:
Opening hours are from 8 am to 6 pm. - Bus No 4、59、74、83 and 101 takes you to Yuantong Hill. - Try famous Yunnan dishes such as rice noodles, braised chicken with brown sauce and steaming pot chicken. - Other scenic spots worth visiting in Kunming include Dianchi Lake and the World Horticultural Exposition Garden.