South Africa offers a 'totally different' travel experience for Chinese tourists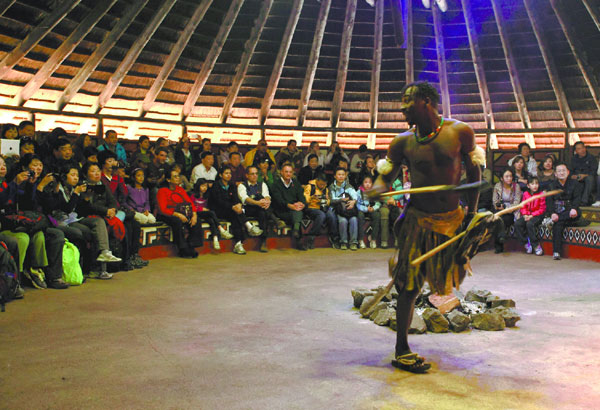 Chinese tourists watch ethnic dancing in the suburbs of Johannesburg, South Africa. Zhang Guilan / for China Daily
Wang Lechuan said it is worth spending almost 24 hours to reach Africa, and he looks forward to visiting the continent again in the near future.
The 30-year-old Beijing resident traveled to South Africa and Kenya in 2003 and 2005.
"I just want to travel to a place that is totally different from China, and I like remote places the best," he said.
Wang is not alone in being tired of the usual tour routes to familiar regions and wanting journeys to the unknown. The number of Chinese tourists to Africa has increased rapidly in recent years, some Chinese travel agencies said.
South Africa, Kenya, Egypt and a number of islands in the Indian Ocean are popular destinations among Chinese travelers because of their beautiful natural scenery and unique local cultures.
China is the fourth-largest source of tourists to South Africa, and their numbers increased more than 63 percent in the first nine months of this year compared with the same period of 2011.
Chinese tourists who travel in Africa usually have international travel experience and are looking for unique journeys, said Zu Lin of China Comfort Travel Group's Africa tourism department.
Every July and August, the animal migration in Kenya lures plenty of Chinese tourists and the ancient Egyptian civilization is also very attractive, Zu said.
As many as 30 African countries and regions are destinations for Chinese tour groups, according to the tourism authority.
"Different countries and regions in Africa have their distinguishing features," Zu said. "Tourists will not get tired of the varied scenery there."
The cost of trips to Africa is also dropping and some tour groups cost less than 10,000 yuan ($1,600), she added.
However, Africa is still a niche market for Chinese tourists compared with other international destinations, some business insiders said.
"Africa is the smallest tourism market among the different tourism regions in the travel agency," said Wang Di, manager of the African division of BTG International Travel & Tours, one of the earliest Chinese travel agencies running tour groups to Africa.
Safety in Africa is also an important concern keeping Chinese tourists from the region.
Wang admitted that the number of clients going to Egypt declined by 10 percent after the country's revolution in 2011, and the hot air balloon crash there in February made the decline even more obvious.
But most of the tour routes are still very safe, because the agencies avoid dangerous regions, she said.
Some Chinese people think of Africa as a backward and chaotic place, but they have never been there, said Zu.
"The actual situation is totally different," Zu said.
Some cities in Africa are developed and there are many high-end hotels, she added.
wangwen@chinadaily.com.cn