Exploring a new Paris revival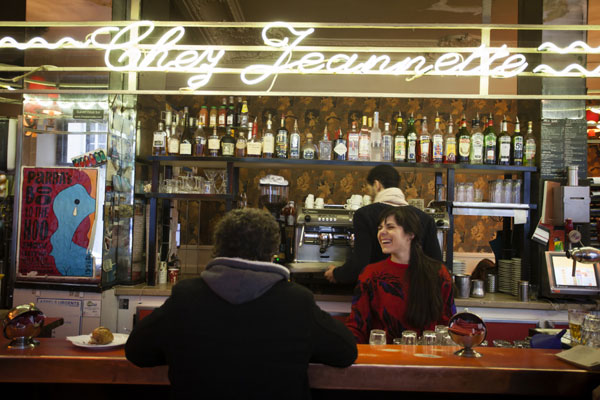 Bars, cafes, galleries, restaurants and boutiques compete for attention in Paris' revitalized 10th Arrondissement. Provided to China Daily
The main reason visitors once had for being in Paris' immigrant-heavy, working-class 10th Arrondissement on the Right Bank is that it's the location of two of the city's busiest train stations, the Gare du Nord and the Gare de l'Est.
This relative anonymity first began fading about 15 years ago, when fashion photographers and other creative types rediscovered the moody beauty of the Canal St. Martin, a disused industrial waterway.
Now it's another part of the 10th that's coming on strong: the Rue du Faubourg St. Denis and the surrounding hive of streets on the district's southern boundary.
With new bars, cafes, galleries, restaurants and boutiques opening regularly, this style-setting but not self-conscious little quartier is channeling the sort of young and brainy personality the Latin Quarter had before it gentrified.
Mussubi: A handsome Zen-style setting - the walls are covered in aromatic red-cedar shingles, and milk-glass lamps cast soft light. Superb omusubi (garnished Japanese rice balls) have made this just-opened lunch-only restaurant a hit.
89 rue d'Hauteville, 33-1-42-46-31-02, www.mussubi.fr.
Hotel Paradis: When this 38-room hotel was completely renovated last year, Dorothee Meilichzon's decor mixed re-editions of '60s Scandinavian furniture with her own off-center riff on the visual conventions of Haussmannian Paris, including marble counters and hand-painted wallpaper.
41 rue des Petites-Ecuries, 33-1-45-23-08-22, www.hotelparadisparis.com.
Chez Jeannette: This neighborhood cafe, where the furnishings date to the '40s, is the best place to observe the diversity that makes the Rue du Faubourg St. Denis so vibrant and appealing.
At midday, Turkish masons in dusty overalls and local furriers mix it up with photographers and social-media editors over the plat du jour, maybe grilled veal with gnocci au gratin; a younger crowd packs the place again after hours.
47 rue du Faubourg St. Denis, 33-1-47-70-30-89.
Vivant Table: In 2011, the restaurateur Pierre Jancou renovated this tiny spot, still decorated with art-nouveau tile murals of the rare birds it once sold, into a wine shop.
Last fall, he rebooted it as an excellent restaurant serving dishes like turbot meuniere with organic baby vegetables, and opened Vivant, a wine bar that specializes in unsulfured and biodynamic wines, next door.
43 rue des Petites Ecuries, 33-1-42-46-43-55, www.vivantparis.com.
Galerie Martel: Rina Zavagli shows the creme de la creme of comic-strip artists here, including Art Spiegelman, Charles Burns and Robert Crumb, as well as graphic art.
17 rue Martel, 33-1-42-46-35-09, www.galeriemartel.com.
The New York Times