A facelift for the 'other' Venice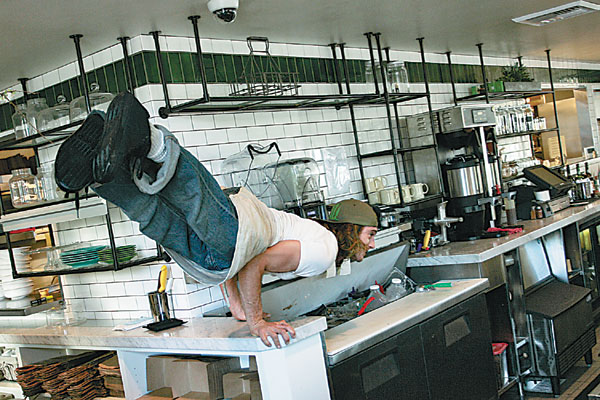 Cafe Gratitude fits for curiosity seekers. Provided to China Daily
Proof is everywhere that Rose Avenue, which runs through the bohemian Los Angeles enclave of Venice, is blossoming.
New condo buildings, upmarket restaurants and boutiques now dot the once-seedy stretch; juice bars and design stores are replacing pawnshops and liquor stores.
The transformation began a few years ago when a handful of intrepid owners of small businesses set up shop along Rose; a gargantuan Whole Foods, at the intersection of Lincoln Boulevard and Rose, soon followed.
And the worker bees at Google, who recently moved into the Frank Gehry-designed Binoculars Building on Rose, now have a wide variety of spots to hit during lunch hour or after work.
Cafe Gratitude: This airy, whitewashed outpost of a cult-favorite vegan mini-chain is welcoming hoards of yoginis, raw food devotees and curiosity seekers. Start with butternut squash tacos or skip straight to light desserts like tiramisu made with almond flour, cashews and coconut butter.
Venice Beach Wines: When Oscar Hermosillo opened this wine bar and shop seven years ago, skepticism about his choice of location followed. These days, the pint-size space is packed with customers pairing charcuterie and cheeses with the house red from a Santa Barbara winery.
Golden State: Stephanie Addis stocks this pint-size lifestyle and design shop with items from Raen, a local sunglasses label; pottery by the artist Luna Garcia; and salts from Hepp's, a company in Venice.
LA + JO: Browse wares like printed scarves, oversize knits and leather clutches at this high-ceilinged newcomer. Also look for handmade jewelry from Paris. Superba Snack Bar: The chef Jason Neroni has all of LA talking about cauliflower thanks to the star entree at this 7-month-old restaurant. He takes a cross-section of the vegetable; bakes, sears and caramelizes it; then tops it with a sauce of parsley, orange and olive. The spot also offers housemade pastas and small plates like black kale with jalapeno-pickled raisins.
The New York Times