Six-time Worlds veteran strongwoman harvests first gold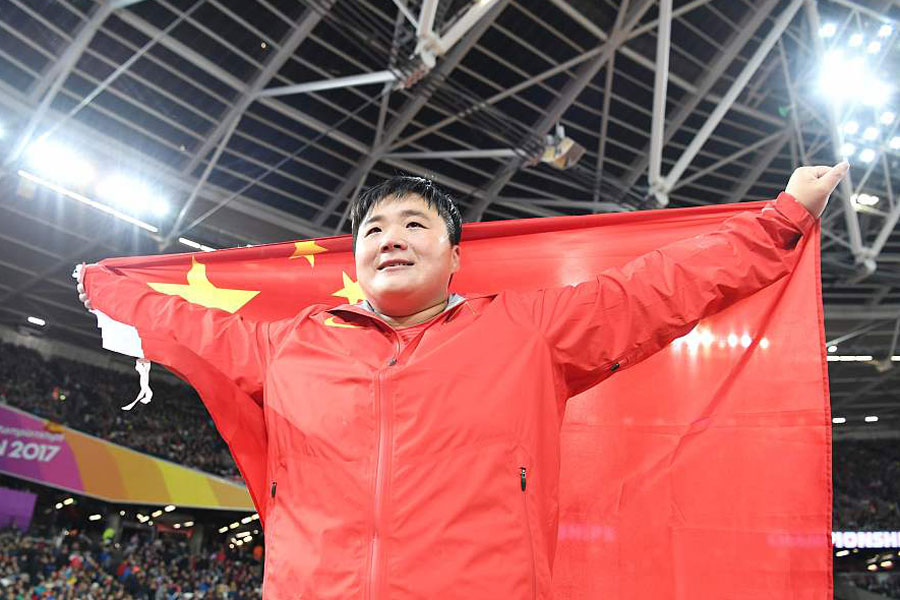 Gong Lijiao celebrates winning gold in the Women's Shot Put final during the 16th IAAF World Athletics Championships at the London Stadium in London, United Kingdom, on Aug 9, 2017. [Photo/VCG]
LONDON - Sixth time is a charm for China's seasoned veteran shot putter Gong Lijiao whose dream of being a world champion finally came true.
In her sixth world championships, the 28-year-old dominated the final, leading all the way through and winning the long-awaited gold medal that had eluded her in the past decade.
"I am so excited, so thrilled. I have been dreaming this moment my whole life and now it came true. To tell the truth, I still feel surreal," said Gong, who secured the victory in 19.94 meters, edging Rio Olympic bronze medalist Anita Marton of Hungary and Olympic champion Michelle Carter of the United States to the second and third place respectively on Wednsday at the London world championships.
"I was actually a little concerned with my form because I will be well below my peak in the year after the Olympic Games," she admitted.
Although Gong said she was not in the top of her form, she already won three Diamond League titles in a run this season and proved to be the strongest in the field.
Leading her rivals from the second attempt in 19.35, she improved her result to 19.94 in the fifth attempt to secure the win.
"The second attempt put me in the lead but I was worried someone would make a better throw because 19.35 was really not that convincing," she said. "I knew I had secured the victory after the fifth attempt."
After the fifth attempt, Gong bounced up and down with both fists in the air to celebrate. She has waited for so long.
Before the London trip, Gong had competed in five world championships earning one silver and two bronzes since making her name at the 2007 World Championships in Osaka, where the then 18-year-old finished seventh with 18.66m.
She has also taken part in three Olympic Games, collecting one silver and one bronze, and two editions of the World Indoor Championships, taking bronze in 2014. But she has never managed to set foot on the top of the podium in any major international competitions.
The 2015 World Championships in Beijing could have been a good chance for Gong to break the jinx. Competing on home soil, she produced a big throw of 20.30m in the opening round but had to settle as runner-up to Germany's Christina Schwanitz seven centimetres in arrears.
The Olympic Games in Rio was another setback for her. Boosted by her career best of 20.43m set three months before the Olympics, Gong arrived in Rio with high expectations but finished a disappointing fourth with 19.39m.
"The Rio setback hit me pretty hard. It took me a long time to walk out of the shadow," said Gong. "I have worked so hard for this day. Now looking back, everything I did is worthwhile."
When the victory finally arrived, Gong was filled with much confidence and started to set another high bar for her career.
"My next goal is of course the 2020 Tokyo Olympics," said Gong who will be 31 then.