Zhu, Zhang inspire China to straight-set win over Brazil in FIVB GP finals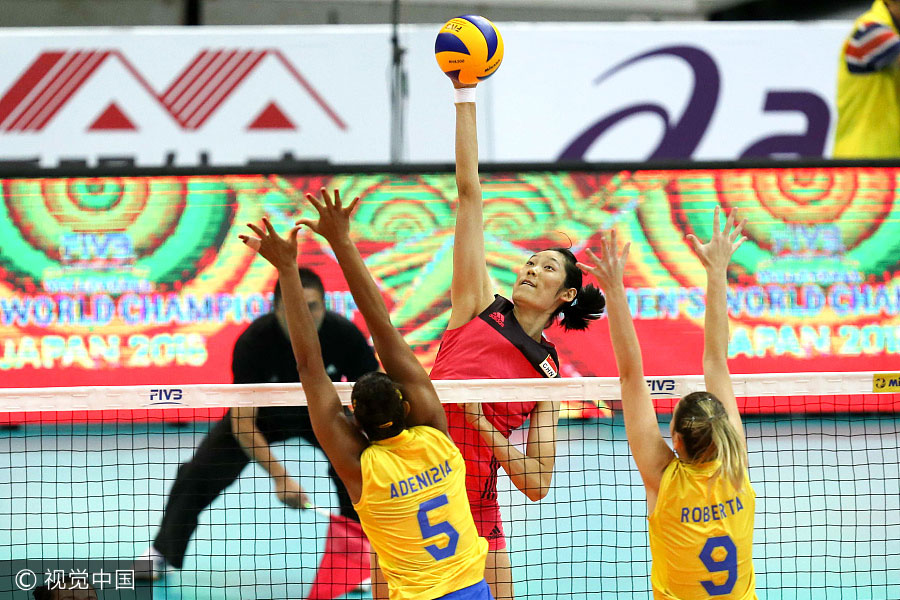 Zhu Ting of China spikes during 2017 Nanjing FIVB World Grand Prix Finals between China and Brazil on August 2, 2017 at Nanjing Olympic Sports Center in Nanjing, China. [Photo/VCG]
NANJING -- Zhu Ting and Zhang Changning combined for 30 points in China's 3-0 (25-22, 25-17, 29-27) win over defending champions Brazil in the 2017 FIVB Volleyball World Grand Prix Group 1 Finals at the Nanjing Olympic Sports Center on Wednesday.
Zhu top scored for China with 16 points, including 15 attacks and a block. Zhang chipped in 14 points, then team-mates Yuan Xinyue and Ding Xia helped out on defence with four and three blocks, respectively. China had a total of 12 blocks, including two crucial blocks at the end of the third set.
Tandara Caixeta led Brazil with 18 points.
China benefitted from Brazil's nine turnovers in the first set to seize a 25-22 win. The hosts carried their momentum into the next set to mount a big lead but Brazil inched closer 17-16 before China started another run that secured the 25-17 second set win.
Brazil made a late run in the third set but China's superior blocking helped them complete the win in the extended third set 29-27.
Also on Wednesday, Brankica Mihajlovic tallied 25 points to lead the Serbian 3-2 (25-22, 25-17, 23-25, 18-25, 15-11) comeback win over USA in the opening match of the FIVB Volleyball World Grand Prix Group 1 Finals in Nanjing.