China's Zhu Ting claims first title with VakifBank at women's volleyball CL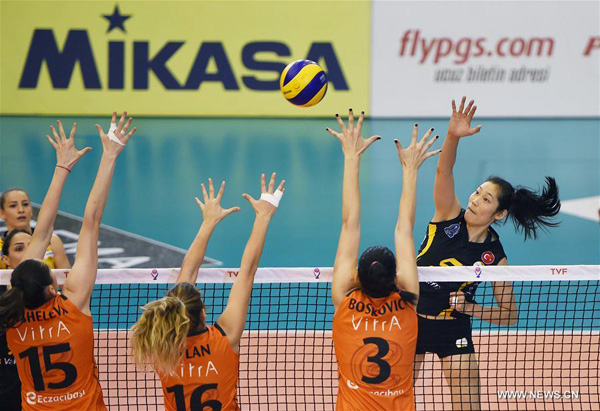 Zhu Ting (R) of Vakifbank spikes the ball during the Turkish Women Volleyball League match between Eczacibasi and Vakifbank in Istanbul, Turkey, Nov 26, 2016. [Photo/Xinhua]
PARIS - Chinese spiker Zhu Ting clinched her first title after joining Turkish side VakifBank in a 25-19, 25-13, 25-23 victory over Conegliano in the women's volleyball Champions League final held in Treviso, Italy on Sunday.
Zhu contributed 22 points, including 19 in attack and 3 in block, to VakifBank, who lifted their third Champions League trophy after 2011 and 2013.
VakifBank eliminated fellow Turkish side Eczacibasi 3-0 in Saturday's semifinals. They built an 8-6 lead at the first technical of the opening set, and continued their upper hand for a 25-19 win.
VakifBank showed more confidence in their way up to an 8-3 lead, before meeting less resistance to set the score at 25-13.
Conegliano, on the brink of the loss, made a strong comeback in the third set and just trailed by one point at the first technical. However, the Italian side found it hard to turn around, before one of their errors ended up in a 25-23 title-securing victory for VakifBank.
"This year we were down so many times, but our players never gave up. I'm really proud of these players," said VakifBank's head coach Giovanni Guidetti.
"It's easy with these teammates. Everyone is supporting each other and makes it really fun," player Kimberly Hill said in echoing the coach.