Too much Sho for fatigued Zou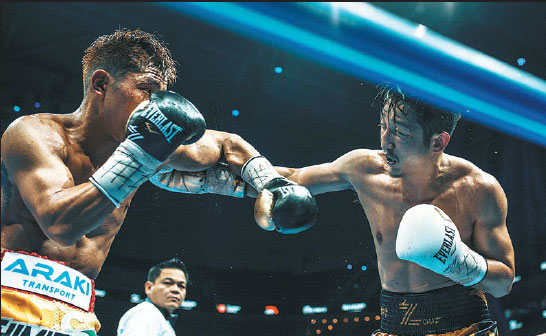 Zou Shiming (right) trades punches with Japanese challenger Sho Kimura during their WBO world flyweight championship bout in Shanghai on Friday night. Kimura won by TKO in 11 rounds. [Photo/Xinhua]
One and done.
That's a probable epitaph for Zou Shiming's professional boxing career after China's double Olympic gold medalist was stopped by 10-1 Japanese underdog Sho Kimura in their WBO world flyweight title fight on Friday night in Shanghai.
In his first bout since capturing the crown eight months ago and fighting for the first time under his own promotional banner and without Hall of Fame trainer Freddie Roach in his corner, the 36-year-old Zou (9-2) showed only abbreviated flashes of speed and power - but he was leading on two of the three scorecards when he was TKO'd at 2:28 of round 11.
Kimura (15-1-2), a 28-year-old part-time beer delivery man, silenced a packed Shanghai Oriental Sports Center by ignoring a brutal cut over his right eye and rallying to finish the fatigued Zou with eight unanswered blows to the head that sent the poster boy of Chinese boxing careening to the canvas.
Referee Danrex Tapdasada stopped the fight moments later.
Zou had predicted he would KO the challenger in four rounds, and early on it looked like that forecast might come true. But the Japanese upstart, ranked No 7 in the world, never relented, even with his eyebrow gushing blood after being ripped open in the sixth.
In the end, Kimura's quickness and punching accuracy made the difference.
Afterwards, a teary Zou thanked the audience for their support and sounded defiant as his family joined him in the ring.
"I have been boxing for 22 years. I have won two Olympic gold medals and a world championship. I might have lost tonight's match but I have already achieved my goal of promoting boxing in China," he said.
"I am sure I will bounce back from this defeat. I will always be king. I don't rule out retirement but, personally, I don't want to say goodbye."
Moments later, organizers canceled the post-fight news conference. No explanation was given.