Sun shines brighter in Budapest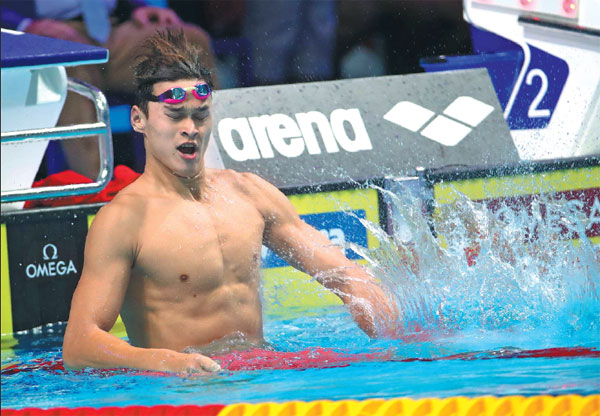 China's Sun Yang celebrates winning the gold medal in the men's 200m freestyle final at the World Aquatics Championships in Budapest on Tuesday. Michael Sohn / AP & Stefan Wermuth / Reuters
Another day, another gold medal for China's premier pool shark
BUDAPEST - Chinese superstar Sun Yang won the men's 200m freestyle gold at the World Aquatics Championships on Tuesday to add to his Olympic title in the same event.
Sun touched the wall first in 1min, 44.39sec - 0.65sec ahead of Townley Haas of the United States. Russia's Aleksandr Krasnykh earned bronze.
"I paid attention to detail and followed the instructions of my coach," said Sun, who punched the water in triumph after his victory.
It marked Sun's second gold of these championships after his victory in the 400m freestyle final last Sunday.
He will bid for the treble in Wednesday's 800m freestyle final - the event he has dominated for the last three world championships since 2011 in Shanghai.
Sun timed his 200m race to perfection.
He was fourth at the halfway point, but caught leader and defending champion James Guy of Britain, who finished fifth, on the final turn and powered home to victory.
His triumph means the 25-year-old Sun is now the 200m freestyle champion at both the worlds and Olympics, after his victory at last year's Rio de Janeiro Games.
The freestyle expert has nine gold medals to his name, spanning four world championships.
He holds a world title in each of the 200, 400, 800 and 1500m freestyle events.
Haas said he pushed through the pain barrier to grab silver.
"The last 50 meters hurt," said the 20-year-old, a gold medalist in the 4x100m relay in the Hungarian capital.
"I couldn't see Sun, but I could see James Guy's arms, so in my head I thought, 'I've got to stay ahead of him'. Then I put my head down and kept kicking."
Guy, the 2015 world champion, was disappointed, especially after Britain's double golds on Monday when Adam Peaty won the 100m breaststroke and Ben Proud took the 50m butterfly.
"It was very disappointing," said Guy. "Yesterday I did it exactly the same way, I felt like I had more left to give on the last leg, especially towards the finish.
"With my roommate (Peaty) winning gold and Ben Proud winning gold, I want to get there too, but everything happens for a reason and I have a four-year plan," he added, with an eye on the Tokyo 2020 Olympics.