Daley dives for second individual gold after eight years at FINA Worlds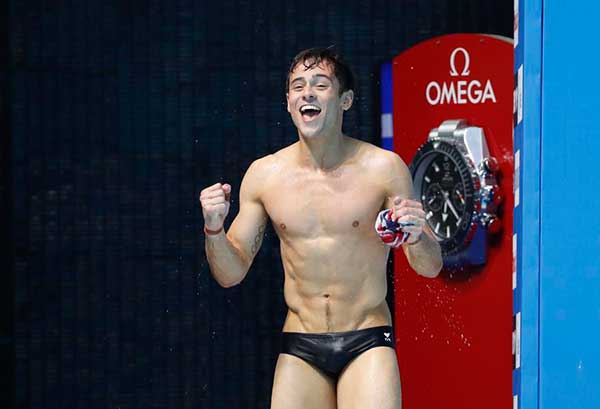 Thomas Daley of Britain reacts after the performance ensuring him to win the men's 10m platform at the 17th FINA World Aquatics Championships in Budapest, Hungary, July 22, 2017. [Photo/Agencies]
BUDAPEST - Eight years after his unheralded victory in Rome, British top diver Tom Daley made a sensational performance on Saturday to regain the world champion title of the men's 10m platform.
Daley led the final since the first round, but met strong challenge from China's Olympic champion Chen Aisen. However the "golden boy" of British diving kept both aggressive and calm, winning the title with a total score of 590.95 points.
Chen took the silver only 5.7 points behind Daley. Chen's teammate Yang Jian took the third place in 565.15 points.
"I performed well and I'm satisfied with my score," said the 21-year-old Chen. "But Daley was the best today. He was nearly perfect."
"It was two very different experiences," said Daley, talking about his two wins at the World Championships in a span of eight years.
"In 2009, I was not expected in anyway shape or form to come away with a gold medal. I was just there diving. Since then, I have always been wanted to win the gold medal," he said.
Then, the 23-year-old realized that it didn't work out if he always told himself that he wanted to win so much. At last year's Rio Olympic Games, Daley didn't even qualify for the final of the event as he ranked 18th in semifinals.
"It was like one of the massive blow in my career so far," said Daley. But it also became a boost.
"I want to enjoy diving again. I want to just go out there, have fun, and train as much as I need to without making myself completely exhausted every single day. Just to enjoy having the balance of the life and diving. That's something really able to make me feeling good."
Less than one hour after collecting a silver medal from the mixed 3m springboard on Saturday, Daley began his performance in the 10m platform final.