Chinese sisters duo finish second in Duet Technical at the FINA worlds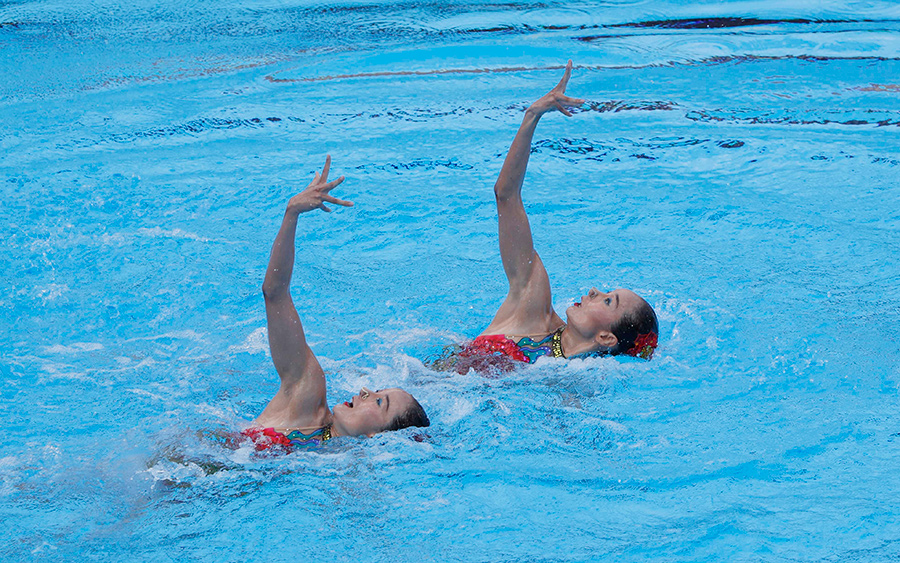 Jiang Tingting and Jiang Wenwen of China compete during Women Duet Technical final at 17th FINA World Aquatics Championships in Budapest, Hungary, July 16, 2017. [Photo/Agencies]
BUDAPEST - Chinese sisters duo of Jiang Wenwen and Jiang Tingting built on their momentum from the second finish in preliminary to sit second in Duet Technical final of the 17th FINA World Championships Synchronized Swimming here on Sunday.
The Chinese sisters snatched 94.0775 points, a result over one point than what they did in the preliminary two days ago. Coming back from having daughters, they have tied their previous best result of runners-up at the worlds in 2013.
Russian Svetlana Kolesnichenko and Alexandra Patskevich won the gold medal with 95.0515 points. Anna Voloshyna and Yelyzaveta Yakhno of Ukraine were placed third at 92.6482.
"We paid more attention to the details after the preliminary, and I think that's why we did better today than the preliminary," said Jiang Wenwen.
"We moved a bit closer to the Russian duo, and that gave us much confidence," commented her twin sister Jiang Tingting.
They kept a habit of having video communications with daughters since their arrival in Budapest.
"It could boost our confidence," said a smiling Jiang Wenwen.