Federer gets record 8th Wimbledon title and 19th grand slam trophy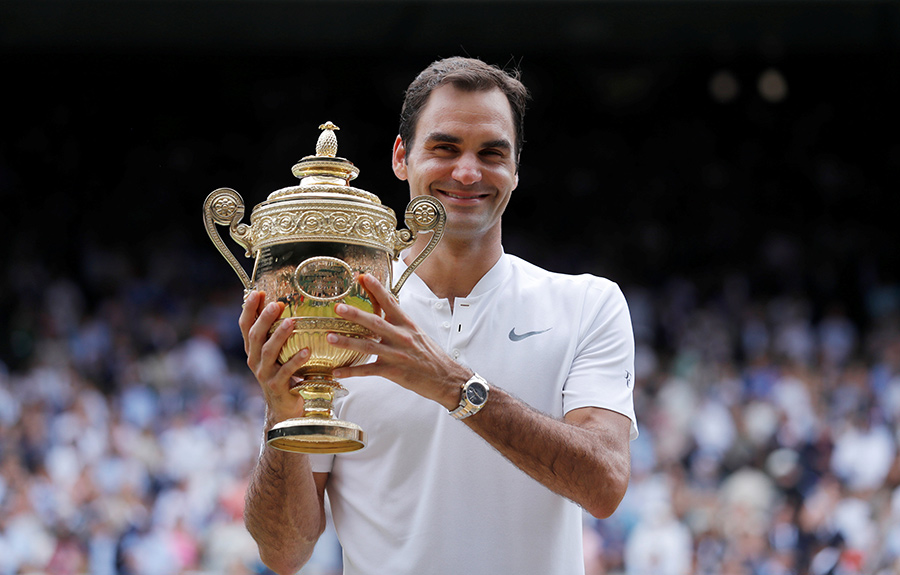 Switzerland's Roger Federer poses with the trophy as he celebrates winning the final against Croatia's Marin Cilic at Wimbledon championships in London, July 16, 2017. [Photo/Agencies]
LONDON - Behind Roger Federer's artistry and charm lies a ruthless streak of razor-edged steel which surfaced again on Sunday as he thrashed suffering Marin Cilic 6-3 6-1 6-4 to secure a record eighth men's Wimbledon singles title.
The incomparable Swiss turned his 11th Wimbledon final into a procession as tearful seventh seed Cilic, battling his nerves and a bloody blister, suffered a torrid afternoon.
Federer described Cilic's predicament as "cruel" after ending his torment with an ace after one hour 41 minutes - but there was no hint of sympathy as, 23 days before his 36th birthday, he became the oldest Wimbledon men's singles champion.
That attitude from the third seed, who last triumphed at the All England Club five years ago, was not surprising since Federer's dream of title number eight had been shattered by Novak Djokovic in the 2014 and 2015 finals.
His take on Cilic's injury spoke volumes for the killer instinct that has earned him a record-extending 19 majors and taken him past American Pete Sampras's record of seven men's singles titles at Wimbledon in the modern era.
"I couldn't tell what it was," Federer said. "But if I saw him limping around, or if I saw him pull up hurt, I would start to think, maybe I'll throw in a dropshot to really check him out, then one more, because that's what you do.
"You need to hurt him where it hurts already."
It was not really necessary as Federer enjoyed one of his easiest title victories.
Having reached the final without dropping a set, he was braced for Cilic's power tools but, apart from the first four games, resistance from the Croat was about as daunting as a man brandishing a stick of celery.
In winning the tournament without the loss of a set, Federer matched the 1976 feat of Swede Bjorn Borg and his own run 10 years ago at the Australian Open.