China's Peng, He take top two slots in men's 1m springboard at FINA worlds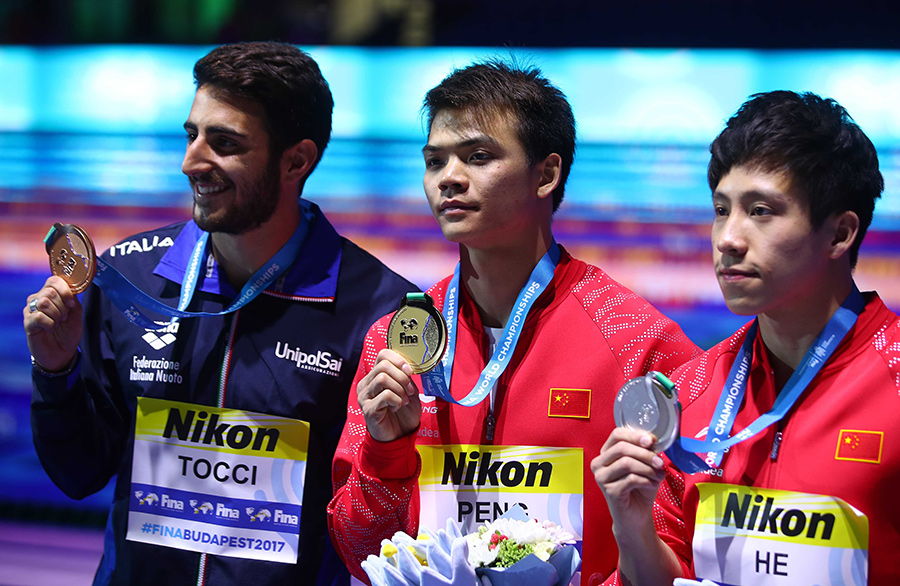 (L-R) Giovanni Tocc of Italy (bronze), Peng Jianfeng (gold) of China and He Chao (silver) of China pose with the medals during the 1m Springboard Men awarding ceremony at the 17th FINA World Aquatics Championships ‌in Budapest, Hungary, July 16, 2017. [Photo/Agencies]
BUDAPEST - Chinese divers Peng Jianfeng and He Chao claimed the top two places in the men's 1m springboard at the FINA World Championships here on Sunday.
In his World Championships debut, Peng experienced a major scare in his fifth dive, where he only snatched 52.80 points before he regrouping himself to win the gold with 448.40 points, 1.20 more than his teammate He.
"I felt pretty excited when seeing my top ranking on the screen, as it was just my maiden World Championships journey here," said Peng, adding that he calmed himself down in short order.
"Winning the world title is just a process. I need to move on towards the next target," he pointed out.
Peng built his leading position from the very first attempt, and extended the margin to as many as 34 points into a "miserable" fifth dive, where he said he felt was a bit "over-relaxed".
"After that, I just said to myself, 'what a bad dive I have made.' I could not expect a worse one than that," he recalled.
After winning the 1m springboard, an event not included in the Olympic Games, Peng expects to move on to bigger and better things in his career.
"I will focus more on the 3m springboard, and hope for more progress in that event," said Peng.
He Chao came back from the eighth ranking after the opening round to position himself second after four attempts, and he went on to take the silver at 447.20.
He Chao was satisfied with his performance in the final, saying that he found it more difficult to build his momentum in the preliminary, and that he made it at the same level with by training daily.
Italian diver Giovanni Tocci, who expected to make into the final 12 before the matchup, took away the bronze medal with a score of 444.25.