China's soccer authorities further curb club spending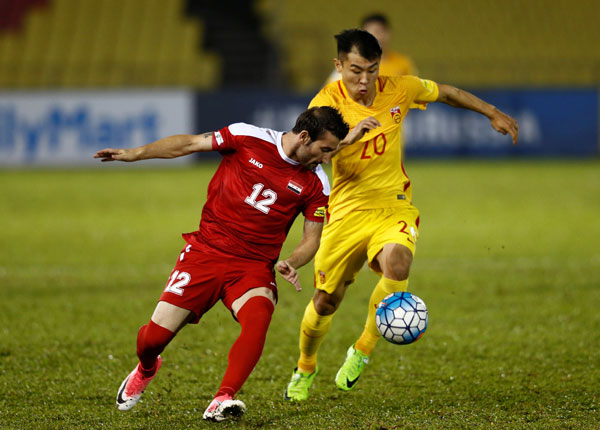 China's Yu Hanchao, right, in action against Syria's Fahad Youssef during the 2018 World Cup Group A Qualifier at Hang Jebat Stadium, Malacca City, Malaysia, June 13, 2017. [Photo/Agencies]
The Chinese Football Association (CFA) announced stricter financial rules on club signings on Tuesday, one day after the summer transfer window opened, in a pre-emptive aimed at curbing big spenders.
Any club that pays a transfer fee above 45 million yuan ($6.63 million) on foreigners has to pay the equivalent amount to the CFA, meaning the transfer fee could double.
A similar rule applies to Chinese players, but the price ceiling has been lowered to 20 million yuan ($2.93 million), according to CFA's letter to all 32 clubs across the Chinese Super League and China League One.
The new regulation would make the arrival of foreign stars such as Diego Costa and Wayne Rooney, both of whom were linked to Chinese clubs, unlikely.
Aiming to cool down the over-heated transfer market that grabbed global attention following a flurry of money-splashing signings of stars, including Carlos Tevez, Oscar and Alexandre Pato, this new rule is the CFA's second swing this year.
The soccer governing body unveiled instructions in January that each team can register five foreign players and only field up to three in every match.
By restricting the employment of foreign players, the CFA policies are designed to force Chinese clubs to explore local players.
This time the new rule came one week after China's 2-2 draw with Syria in a World Cup qualifier. The contrast between the expensive foreign stars and Chinese national team's performance once again raised public concerns over the lack of local talents.
Most Popular
Highlights
What's Hot