Tackling China market head on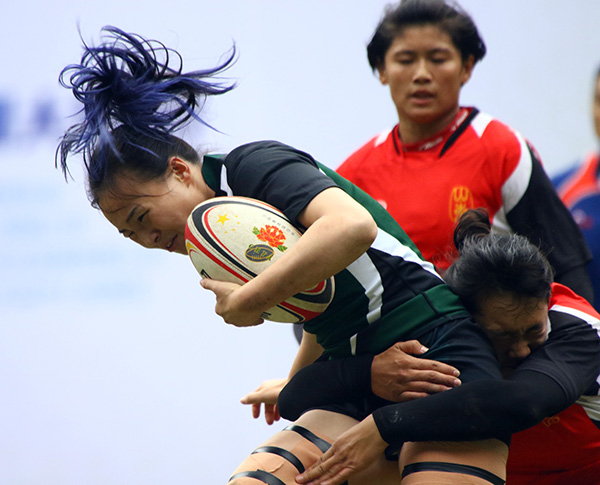 Rugby is on the brink of a major boost in China, with an ambitious plan to develop 50,000 new players-male and female, amateur and professional-each year until 2020. Provided To China Daily
Ambitious new initiative aims to encourage kids to get their kicks
Rugby union is desperate to grab a piece of China's sports pie as the game targets a major expansion beyond its traditional bases of Europe and Australasia.
Japan will host the 2019 Rugby World Cup while the sport will also feature at the 2020 Tokyo Olympics, in seven-aside format.
But it is China where World Rugby is really focusing its Asian attention.
"When we talk about the importance for rugby, whether it's for the world or Asia, China is absolutely our gem going forward," Ross Mitch, general manager of Asia Rugby, told China Daily at a recent Beijing conference hosted by World Rugby and the China Rugby Football Association.
"China has 1.4 billion people. If we can get just 1 percent, 14 million, playing rugby, we are going to take the world by storm," he said.
World Rugby's Asia One Million program hopes to develop 1 million new players, both professional and amateur, through 2020 on a budget of around $1.8 million.
It recently launched the China campaign of that initiative, which will be rolled out in Beijing, Shanghai, Shandong and Liaoning provinces, where Get Into Rugby (GIR) training clinics will be delivered to schools and communities, with help from foreign experts.
Funded by World Rugby, the program aims to cultivate 50,000 new Chinese players every year through 2020.
But those figures are highly ambitious, according to insiders, given the lack of expertise, manpower and competition in a nation where the public perception of the sport is low.
"There's still a stereotype that rugby is dangerous because it can look brutal at times," said Cui Weihong, secretary general of CRFA.
"That affects public participation, although it has gained a modest level of attention."
First introduced to China from Japan in the early 1990s, rugby union was only played within a small circle of expats and college students for two decades until an upturn in 2009, when the seven-a-side version was included in the Olympic program for the first time.
With Olympic success weighing heavily on its agenda, the General Administration of Sport of China added rugby sevens to the program of its quadrennial National Games in 2013 to prompt funding and support from local sports bureaus.
Rugby sevens made its Olympic debut at the 2016 Rio Games.
China now has about 35,300 players registered with the CRFA, while the number in Japan had surpassed 105,600 in 2016, according to World Rugby.
Very few Chinese players have trained professionally,
The expansion of the GIR program, launched in China in late 2012, was expected to broaden the game's outreach to ordinary schools and significantly grow the participation, said Cui.
"Strengthening grassroots promotion by working together with the education authorities and collegiate sports associations is one of our priorities this year. The GIR program has provided help just in time."
The number of GIR events across China will be increased by 40 percent through September from 40 held at 20 locations last year, according to Asia Rugby.
"So now the job is to get it into schools," said Ben van Rooyen, GIR coordinator for Asia Rugby.
"When the green lights go on ... these schools are open, we should be geared in terms of trainer education, equipment and facilities."
The China Agriculture University (CAU), where the game was initially brought to the country, has kicked off its own school promotion organized by its physical-education staff and alumni.
Zhang Zhiqiang, CAU varsity team coach and former national team captain, has set up a junior camp on campus to offer more than 30 students from nearby primary schools training in the non-contact 'touch' version of the sport twice a week.
Similar programs have been rolled out at 20 primary and secondary schools around Beijing.
"Rugby's educational function has started to be accepted by a lot of parents," said Zhang.
"Hopefully by promoting the less-physical version of the sport we can help it take off and it will spread to other schools."
sunxiaochen@chinadaily.com.cn
Most Popular
Highlights
What's Hot