LeBron quenches Cavs' thirst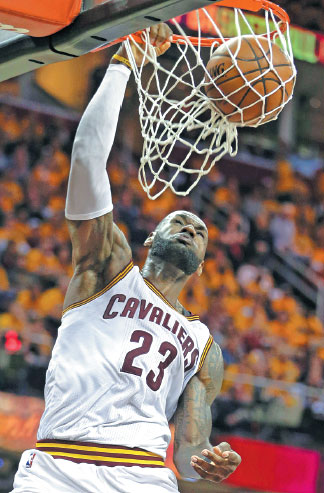 Cleveland Cavaliers captain LeBron James dunks against the Toronto Raptors in the second half of Monday's opening game of the NBA Eastern Conference semifinal in Cleveland. The Cavs won 116-105. Tony Dejak / Ap
James leads rested Cleveland squad to one-sided romp over Raptors
CLEVELAND - LeBron James considered swigging a beer while scoring 35 points and Kyrie Irving added 24 as the Cleveland Cavaliers picked up where they left off following a long layoff and throttled the Toronto Raptors 116-105 on Monday night in the opener of their Eastern Conference semifinal.
The Cavs hadn't played since April 23, when they completed a four-game sweep of Indiana. But the defending champions didn't show any signs of rust against the revenge-seeking Raptors, who lost to Cleveland in last year's conference final.
Toronto dropped to 1-12 in playoff openers.
"I think we had great energy, and even some of the mistakes that we had we were able to cover up for because our energy level was high," James said. "But we'll be a lot better on Wednesday."
Kyle Lowry scored 20 and DeMar DeRozan 19 for the Raptors, who were within seven in the third quarter before James dropped a 3-pointer, converted a three-point play, drained another 3 - and then considered washing down a brew.
After drawing a foul on a missed layup, James playfully hopped toward the sideline, where a courtside server was passing by.
The four-time league MVP reached and grabbed a beer bottle from her tray and brought it toward his lips before putting it back.
By then, he and the Cavs had already downed the Raptors.
With trade acquisitions Serge Ibaka and PJ Tucker, Toronto looked better equipped to beat Cleveland than the Raptors squad that lost in six games in last year's playoffs.
Trouble is, James only seems to be getting better.
After nearly averaging a triple-double against the Pacers, he reminded the Raptors that to move on they'll have to beat him.
Before the game, Toronto coach Dwane Casey talked about the big comebacks that have been a theme in these playoffs. The Raptors blew a 25-point lead to Milwaukee in the first round, while the Cavs overcame a 25-point deficit and pulled off the biggest second-half rally in playoff history.
"There's no lead safe in the NBA," Casey said.
That's what happened to the Cavs in the first half as they built an 18-point lead only to watch the Raptors go on a 19-3 burst to pull to 41-39.
But Cleveland regrouped and, playing a turnover-free second quarter, led 62-48 at half.
James' legs looked fresh early on as he and Irving teamed up on a stunning alley-oop.
After he poked the ball away for a steal, James took off up the floor with Irving on the break.
James pointed at the backboard and Irving understood the message, bouncing a pass high off the glass that James dunked with his left hand.
Tip-ins
Raptors: Guard Norman Powell appeared to intentionally hit Kevin Love in the groin area, a play that could come under league review. Later, Powell was assessed a technical for jawing with Cavs guard Dahntay Jones, who was ejected ... Toronto's lone win in a playoff opener came in 2001 ... Casey said trying to devise a game plan to slow down James is almost impossible. "He's the hub of everything," he said. "He understands where everybody is. He's a quarterback. He's a point guard. He's a power forward. He's a small forward. He's a shooting guard. He's everything."
Cavaliers: James needs 25 points to pass Kareem Abdul-Jabbar (5,762 points) for second place on the league's all-time playoff scoring list, and two 3-pointers to join Ray Allen, Reggie Miller and Manu Ginobili as the only players to connect on 300 postseason 3s ... James has scored at least 30 points in 88 playoff games, tying Kobe Bryant for second on the career list. Only Michael Jordan (109) has more.
Associated Press
Most Popular
Highlights
What's Hot