Sparking an electric future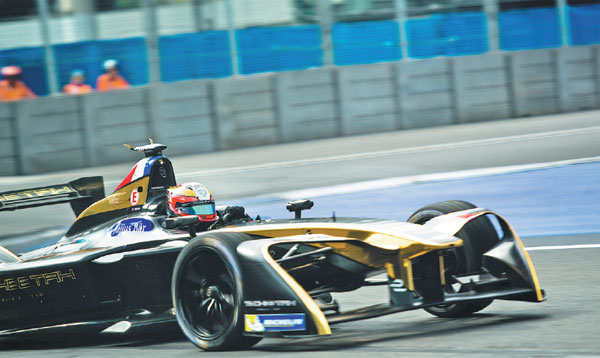 French driver Jean-Eric Vergne of China's Team Techeetah steers a Renault Z.E 16 during last month's Mexico City ePrix at Autodromo Hermanos Rodriguez. Spacesuit Media
Global auto giants flocking to join Formula E frenzy
Three short years after being launched, FIA's Formula E Championship is making good on its slogan to "Drive the Future" while rapidly evolving into one of the most important series in auto racing.
"There are more automobile manufacturers participating in Formula E than any other series, even Formula One, because everyone is looking at the future and they know that the future is electric," Ivan Yim, managing director of Team Techeetah, told China Daily at last month's Mexico City ePrix.
"Fossil fuel is a twilight resource. It will end one day. There's no alternative but to go electric," Yim said. "If you look 10 years down the road, Formula E will be bigger than Formula One."
New energy vehicles stole the spotlight at the recent Shanghai auto show, where 159 electric vehicles, plug-in hybrids and fuel-cell cars were showcased, representing about 11 percent of all exhibits.
The Chinese electric vehicle start-up NIO, formerly known as NextEV, featured a lineup of 11 vehicles, including the new ES8 SUV and flagship EP9, which the company touts as the world's fastest electric car.
Before debuting at the Shanghai show, NIO had already attracted wide attention thanks to outstanding performances in Formula E, securing the inaugural drivers' championship.
Compared to Formula One, it's easier to transfer electric technologies used in racecars into electric street vehicles, according to Nick Sampson, vice-president of research and development at Faraday Future.
"Formula One is all about air dynamics. Millions and millions of dollars are spent on fine tuning ways of creating dynamic air pressure, which has very little relevance in production cars," Sampson said.
"But we find Formula E attractive because it's concentrated on areas that are relevant to production cars, such as the battery and electric drive unit. In these key areas, technology used on the formula track and technology used in road cars is similar."
US-based Faraday unveiled its prototype EV FF91 last January in Las Vegas ahead of the 2017 Consumer Electronics Show. Production is planned to start in 2018.
Faraday Future has partnered with Dragon Racing in season three of Formula E, where it wants to "further push forward developing the technology for road cars in the competitive environment of motor sports," Sampson said.
FIA, global overseer of motor sports, announced in late March the nine powertrain constructors it has granted homologation for seasons five, six and seven of the Formula E Championship. Among them is BMW, which currently participates as a partner of Formula E's US-based Team Andretti.
Audi will continue to back the Abt team, while Mercedes-Benz, which isn't yet on the list, signed an option agreement last year to potentially join Formula E in the 2018-19 season.
The reason why the fifth season of Formula E is attracting major automakers is because for the first time races will be completed using just one car rather than two, thanks to improved battery technology. Teams will use identical chassis and batteries, but constructors will be responsible for their own powertrains.
"The homologation of the powertrains that will be used as from season five is a very significant step because it means the cars will be able to run for twice as long while, at the very least, maintaining the same performance level," said FIA president Jean Todt.
"This highlights how motor sport can stimulate and accelerate development of new technologies which can then be applied to road cars."
xujingxi@chinadaily.com.cn
Most Popular
Highlights
What's Hot