Capital punishment eliminates Crosby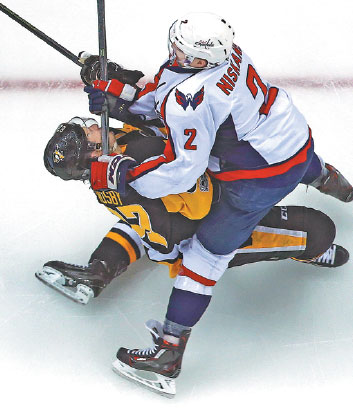 Pittsburgh Penguins' Sidney Crosby takes a hit to the head from Washington Capitals' Matt Niskanen early in Monday's Game 3 of their NHL Eastern Conference semifinal in Pittsburgh. Crosby left the game and did not return. The Capitals won 3-2 in overtime. Gene J. Puskar / Ap
PITTSBURGH - A shot from the point by Washington Capitals defenseman Kevin Shattenkirk salvaged - or at the very least, extended - his team's season on Monday night.
A far different kind of shot might end up determining the outcome of the Caps' Eastern Conference semifinal series against the Pittsburgh Penguins, which is growing more contentious by the shift.
Shattenkirk's goal 3:13 into overtime lifted Washington to a 3-2 victory, cutting Pittsburgh's series lead to 2-1.
A couple of hours earlier, Sidney Crosby, the Penguins' superstar captain, left the game after just five minutes after taking a cross-check to the head from Washington's Matt Niskanen.
The NHL's leading goal scorer did not return and his status for Wednesday's Game 4 - and maybe the rest of the postseason - is uncertain.
"I certainly didn't mean to injure him," said Niskanen, who spent four years with Crosby in Pittsburgh before signing with Washington in 2014. "It's an unfortunate play that happened really quick."
Penguins coach Mike Sullivan said Crosby will be evaluated on Tuesday. Even without Crosby, Pittsburgh pushed Washington to the limit. Evgeni Malkin and Justin Schultz scored in a 48-second span with less than two minutes left in regulation to force overtime.
For once Washington, a 43-year-old franchise with a long history of playoff collapses, dominated the extra period before Shattenkirk's fired a shot past Marc-Andre Fleury's blocker to send his teammates pouring over the boards in celebration.
"Tonight was a great test for all of us," said Shattenkirk, who played miserably during a blowout loss in Game 2.
"There were a lot of different moments in the game where we had to see what we were made of."
One frightening moment, however, will resonate above all others.
The game was scoreless early in the first period when Crosby skated just outside the Capitals' crease. Washington's Alex Ovechkin slashed Crosby along the upper body and Crosby slid awkwardly trying to maintain his balance when he collided with Niskanen, who had his stick raised.
The stick caught Crosby flush across the mouth and the two-time MVP was stretched out on the ice in pain for several moments before slowly skating off under his own power as Pittsburgh trainers searched for his teeth.
Niskanen earned a major penalty for cross-checking and was given a game misconduct. Washington coach Barry Trotz called it "a hockey play." Niskanen conceded that it looked "really bad" when he caught the replay, but stressed there was no malicious intent.
His former teammates weren't buying it.
"It's one of those things you look at it once, you see what actually happened and the next thing is watching how deliberate it was when the guy cross-checks him in the face," Pittsburgh forward Chris Kunitz said. "I thought all of that was kind of out of this league, but I guess not."
This wasn't the first time Crosby took an ugly shot to the head from a Capital.
Crosby was in the middle of an MVP run on Jan., 1, 2011, when he took an elbow to the head from Washington's David Steckel during the Winter Classic, leading to a concussion that cost Crosby the better part of two years in his prime as he struggled to recover.
Their captain gone for the rest of the game and perhaps longer, the Penguins appeared momentarily dazed as they tried to regroup.
Associated Press
Most Popular
Highlights
What's Hot