Jose not hopeful over Ibra's injury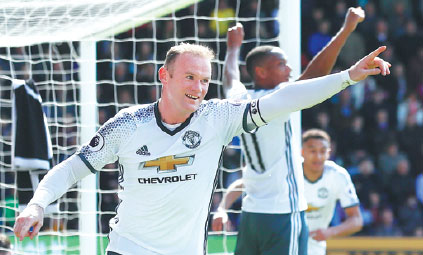 Wayne Rooney celebrates scoring Manchester United's second goal against Burnley in their English Premier League match on Sunday. United won 2-0. Jason Cairnduff / Reuters
BURNLEY, England - Jose Mourinho said it will be "really hard" for veteran striker Zlatan Ibrahimovic to recover from his season-ending knee ligament injury.
The Manchester United manager was speaking after his side's impressive 2-0 victory at Burnley, three days after Ibrahimovic and defender Marcos Rojo sustained knee injuries, which require surgery, during last week's Europa League quarterfinal win over Anderlecht.
"Everyone is very sad. We were thinking about them. They have to be strong," Mourinho said on Sunday.
"Unfortunately they won't be the first or last players to get an important injury.
"No player deserves to be injured, but I think in this case it's even more sad because for Zlatan, in this stage of his career, it's really, really hard.
"And Marcos at this moment in his career is playing very well for us and also finally getting a position as central defender in the Argentina team, so we're really sad for them."
Reports have suggested that, given his age, Ibrahimovic might not play at the top level again.
The 35-year-old's United contract expires at the end of the season, although Mourinho would not be drawn into speculation over the forward's future.
"I think it's for the medical department to be more specific and to evaluate over the next few days to seek an expert's opinion and we have to wait and see about that," he said.
"I don't care about it in this moment, I just want the player to recover the best he can and we'll see about it.
"Honestly, I'm not sad for the team, I'm not worried about the impact of not having them. I don't care about it, I just think about them, and like everybody I'm really sad."
Goals from Anthony Martial and Wayne Rooney earned United's win at Burnley, with the former responding well to midweek comments from his manager that questioned his work ethic.
"Yes," said Mourinho when asked if Martial had responded as he wished.
"Of course, it was a very good performance by him - with the ball, without the ball, in defense, matched in the middle against two strong central defenders and without anyone just behind him supporting him."