Zhu aces MVP at Champions League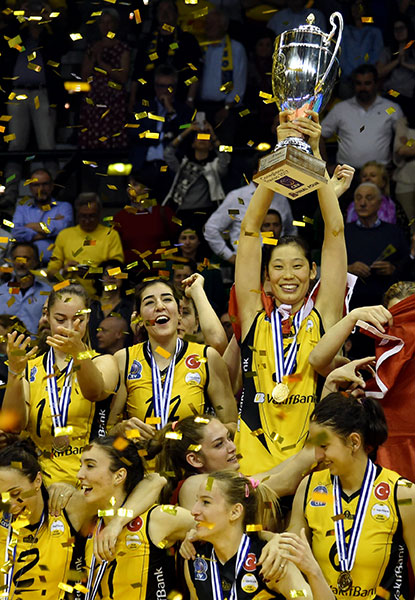 The first Chinese player named MVP at the European Champions League finals, Zhu Ting, raises the women's volleyball trophy after her team's victory. Pier Marco Tacca / Anadolu Agency
Chinese spiker Zhu Ting clinched her first title after joining Turkish team Vakif-Bank in a 25-19, 25-13, 25-23 victory over Italy's Conegliano in the women's volleyball Champions League final in Treviso, Italy, on Sunday.
With 22 points in the final, including 19 in attack and 3 in block, Zhu was named the match's most valuable player, the league's first Chinese player to win the designation. It was the team's third Champions League trophy after 2011 and 2013.
"This year we were down so many times, but our players never gave up. I'm really proud of these players," said VakifBank's head coach, Giovanni Guidetti.
At Saturday's semifinals, Zhu claimed 24 points to lift the team into the final, beating Turkey's Eczacibasi 3-0.
The Champions League trophy is the first for Zhu while playing overseas.
Zhu, 22, signed with Vakif-Bank in October after helping China win gold in women's volleyball at the 2016 Rio Olympic Games.
After Zhu joined, VakifBank won 17 games in the Turkish league, ranking first in the regular season. In the playoffs, the team was edged out and had to compete for third place in the national league.
Zhu showed great promise in volleyball from an early age. She helped China's national youth team win the Asian Youth Women's Championships in 2012 and 2013. She was MVP at the 2012 championship and best scorer, best spike and MVP at the 2013 championship.
After her joining the national team in 2013, she won best spike at the 2013 World Grand Prix Finals and best scorer and best spike at the 2014 World Championships.
At the Rio Olympics, Zhu had 170 points as leading spiker of the Chinese team and was named Olympic MVP in women's volleyball. In January, she was named CCTV Sports woman of the Year.
Xinhua contributed to this story.