Hirano puts China on Olympic alert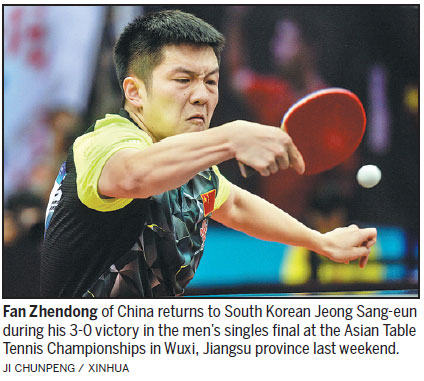 Japanese teenager's sensational rise has forced a rethink by main rival, writes Xinhua's Cao Jianjie.
WUXI, Jiangsu - China's longtime table tennis dominance is under threat from a petite 17-year-old Japanese who waves her racket as if brandishing a machete.
Miu Hirano, who stands 5-foot-2, sent three top Chinese players packing en route to Japan's first Asian title in 21 years on Saturday, sounding a stern warning ahead of the 2020 Tokyo Olympics and sending shockwaves through the sport in China.
Hirano first stunned the Wuxi crowd at the Asian Table Tennis Championships by surviving five match points to eventually overcome world No 1 and three-time Olympic champion Ding Ning 3-2.
The Chinese camp explained Ding's loss as a "post-Olympics slump", just as in the case of double men's Olympic champion Ma Long, who lost to South Korean Jeong Sang-eun in the last 32.
However, when Hirano vanquished world No 2 Zhu Yuling in the semifinal and fifth-ranked Chen Meng in the final, both in straight sets, China was forced to reevaluate.
"No one can beat three top Chinese players by mere luck," said Zhu's coach, Li Sun.
Li is certain Hirano will be the main threat to Chinese women in the near future, adding the Japanese teen has been "underestimated" despite being a World Cup champion.
Hirano became the youngest-ever World Cup winner last year amid notable Chinese absences at the tournament.
Japan has often produced flash-in-the-pan stars such as Ai Fukuhara, so Hirano wasn't taken seriously until last weekend.
"We knew young Japanese players were good, but we didn't expect them to be that good," said Li.
With 2012 Olympic champion Li Xiaoxia now retired and Ding Ning and Liu Shiwen heading into the twilight of their careers, China's medal hopes for the 2020 Games in Tokyo are expected to rest with Zhu Yuling and Chen Meng - last weekend's disappointing performances not withstanding.
"After Ding Ning was eliminated, no one was able to stand up against the Japanese challenge. Young players lacked confidence and were unable to fight back when they were forced to the edge of a cliff," said Dr Liu Wei, a former world champion, who commentated for Chinese TV at the Asian championships.
"The Japanese are keen to make a breakthrough in Olympic table tennis in 2020 and therefore they value every encounter with China as a learning experience.
"It was a smart move for Japan to send teenage players to take on top Chinese players. Win or lose, it is a valuable experience for them."
The increased rivalry can only be healthy for the sport, with Liu pointing to a spike in TV ratings for the final.
"People are bored with Chinese players winning all the time," she said. "The world of table tennis loves to see China lose in big matches. That's news, isn't it?"
At least one Chinese, however, was not totally astounded by the win: Hirano's coach, Wang Rui.
A former player at provincial level for Hebei, Wang moved to Japan 15 years ago, becoming the head coach at Japan's junior elites' school. Having coached top-ranked Kasumi Ishikawa for six years, he began to work with Hirano and other promising youngsters in October 2015.
Hirano said she had become a better player since joining the Chinese Super League in 2016.
"I think it's fair to say that a Japanese paddler's success must have something to do with the Chinese," Wang said. In the men's singles action in Wuxi, Japan's Koki Niwa compounded China's woes by ousting No 3 seed Xu Xin in the quarterfinals before he lost to Korean Jeong.
Fan Zhendong restored some pride for China by beating Jeong in the final.
Most Popular
Highlights
What's Hot