Could Japan end China's ping-pong supremacy?
Since the turn of the century, China has reigned supreme in the world of table tennis. But now a talented young Japanese team is eyeing China's throne, Dominic Morgan reports.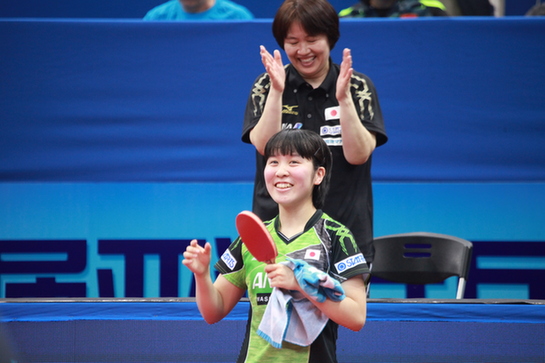 Miu Hirano of Japan celebrates after beating China's Chen Meng in the women's singles final at the ITTF Asian Championships in Wuxi on April 15.[Photo/chinadaily.com.cn]
On paper, China swept all before them once again last week at the 23rd ITTF Asian Championships in Wuxi, Jiangsu province, winning six of a possible seven events.
But on the final day of play on April 16, the mood in the Chinese camp was far from triumphant.
"We have faced some upsets from others in the tournament but that shouldn't be something for me to be thinking about; it's beyond my control," said China's defending champion Fan Zhendong ahead of his men's singles final.
Even after Fan had demolished his Korean opponent Jeong Sangeun 3-0 to retain his title, Chinese head coach Liu Guoliang struggled to put a positive spin on his team's performance.
"I think it's a good thing to have competitors who can pose real challenges, which makes our sport more competitive and healthy," said Liu.
Looking beyond the list of winners, it is easy to see why so much soul-searching is happening in Chinese table tennis after Wuxi.
Total dominance at major tournaments is par for the course for China, where ping-pong is the national sport. The country has won six out of seven events or more at every Asian Championships since 2005.
Despite extending this record in 2017, there were signs that the Chinese team's grip at the summit of world table tennis may be weakening.
For the first time since 2000, China failed to provide both finalists in the men's singles final, with world number one Ma Long suffering a shock third round exit to unranked outsider Jeong.
Most concerning of all, 17-year-old Japanese Miu Hirano came from nowhere to humble Chinese stars Ding Ning, Zhu Yuling and Chen Meng on her way to winning the women's singles, the first non-Chinese winner of the event since 1996.
And if China's perch on the throne appears to be slipping, there is no doubt which country is poised to knock it off.
"China is always impressive, but I have been very much impressed by Japan," said Katya Brand, a veteran umpire serving as tournament evaluator in Wuxi. "Japan did a very good job this time."
Miu was the standout success for Japan last week, but her team also made progress across the board, reaching the final of the mixed doubles and women's team events and providing two of the four semifinalists in the women's doubles.
These results are even more exciting when you consider how young this team is. In Wuxi, 20-year-old Miyu Maeda was the oldest player in the women's team, and three of the seven squad members, including newly-crowned champion Miu, were born in 2000.
The men's team still contains relative veterans like 26-year-old Kenta Matsudaira, but also Tomokazu Harimoto, who was born in 2003.
For Japan, bringing through this new batch of talented teenagers has been a deliberate choice aimed at building a team capable of beating China at their home Olympics in Tokyo in 2020.
"[Japan] works a lot with young players, taking them at a very young age and working a lot with them. Japan did great work throughout the last years to do this," said Brand.
The huge strides made by Miu in just the last few months shows that this work is now paying off, and also suggests there could be much more to come. Before the start of the Asian Championships, the 17-year-old had never beaten a Chinese rival before, but in Wuxi she outclassed everyone.
Most Popular
Highlights
What's Hot