NHL set for China showcase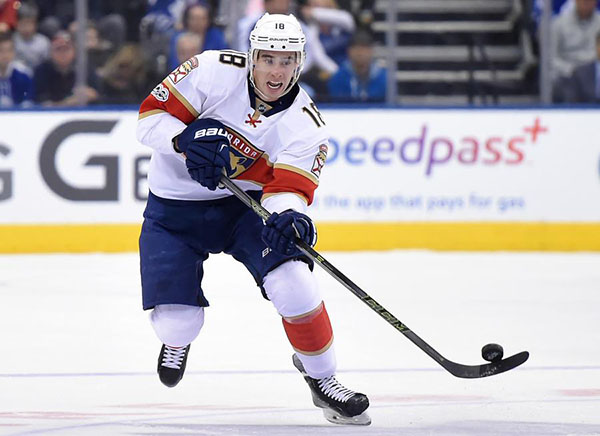 Florida Panthers forward Reilly smith (18) shoots the puck into the Toronto Maple Leafs zone during the first period at Air Canada Centre in Toronto on March 28, 2017. [Photo by Dan Hamilton-USA TODAY Sports via Reuters]
The National Hockey League is including China on its guest list for a very special birthday celebration.
But don't look for any passive party games at the September bash; this one will feature non-stop action, plenty of high-speed collisions ... and maybe a fight or two.
On Thursday morning in Beijing, NHL commissioner Gary Bettman announced the league will mark the 100th anniversary of its Canadian birth by staging a pair of preseason clashes between the Vancouver Canucks and the Los Angeles Kings, on Sept 21 at Mercedes-Benz Arena in Shanghai and Sept 23 at Wukesong Arena in the capital.
"This is a historic moment for the National Hockey League, and I am honored to announce the 2017 NHL China Games, presented by ORG Packaging," Bettman said during a media conference at Wukesong.
The games are co-sponsored by Bloomage International Group, a China-based, privately owned corporation devoted to expanding sports and promoting healthy lifestyles. Bloomage has signed an eight-year partnership with the NHL.
"This is the formal launch of what we hope will be a long and successful collaboration between our league, our teams and our partners in accelerating the development of hockey in China," Bettman added.
"We look forward to our first games in China and to a variety of initiatives that will inspire generations of Chinese players and fans to enjoy our sport.
"The NHL recognizes the importance of helping China build a strong national hockey program and we are committed to supporting that priority in every way possible."
In keeping with the league's ever-expanding international focus, the current rosters of the Canucks and Kings boast players of 10 different nationalities, with 22 Canadians, 20 Americans, three Swedes, two Russians and single representatives from Finland, Denmark, Switzerland, Italy, Slovenia and Slovakia.
While the September games mark a first for the NHL in China, both the Canucks and Kings have staged youth training camps here.
Trevor Linden, Vancouver's president of hockey operations, told nhl.com the games represent a first step in formulating a long-term plan for the development of a Chinese hockey culture.
"It's not about one-off games; it's about integrating the sport at the grassroots level," said Linden, who rewrote the Canucks record book over his 19-year career.
"The games we play here in September are a nice part of it, but if the program isn't backed up with grassroots support, it doesn't make sense. It's going to be a comprehensive program. I know that's the NHL's plan-and certainly it's the Vancouver Canucks' plan."
In January, the Kings invited ORG Packaging chairman Zhou Yunjie to attend the NHL All-Star Game in LA, and Luc Robitaille, the Kings president of business operations, arranged for Zhou to don goalie gear for a shootout against celebrities like Justin Bieber.
Zhou, a dedicated recreational player, said his company's new partnership with the NHL will not only give ORG "the opportunity to introduce the world's best hockey league to more young players in China, but also a platform for sports and cultural exchanges between the two countries, which will in turn contribute to China's hockey talent pool."
John McCallum, Canada's ambassador to China, said bringing the NHL to the world's most populous nation marks another milestone in the long, amicable relationship between the two countries.
"In Canada, hockey is played by young and old, in every village, town and city. The game celebrates hard work and team spirit, and it's an important part of our social fabric.
"It's wonderful to see China embracing what has truly become a global game."
Most Popular
Highlights
What's Hot