Defoe determined to continue his quest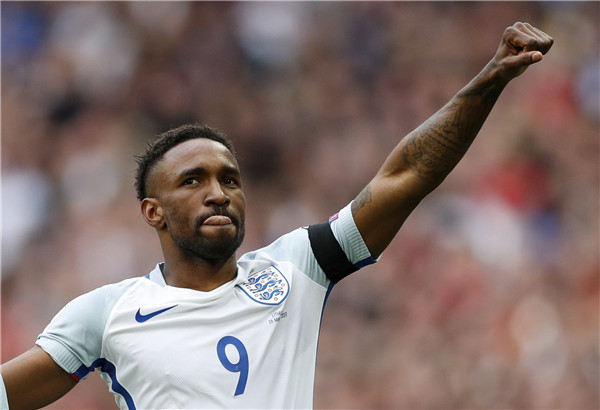 England's Jermain Defoe celebrates scoring their first goal in 2018 World Cup Qualifier in London, England on March 26, 2017. [Photo/Agencies]
LONDON - Fueled by the pain of past rejections and revitalized after turning vegan, Jermain Defoe insists he can defy age by firing England to the World Cup.
Less than a year ago, Defoe feared his England career was over after Roy Hodgson ignored the striker's fine form with Sunderland and left him off the Euro 2016 squad.
Defoe was devastated and the blow was even tougher to take because Hodgson didn't deliver the news personally.
"I didn't get a call. I found out on the telly," he said.
"I still think about it. It keeps the fire in my belly because I love playing for my country."
Despite the sting of that snub, the 34-year-old forward refused to give up hope of a recall.
Fast forward to Sunday and it was no wonder Defoe wore a smile as wide as the Wembley arch when he marked his first England appearance since 2013 with his first international goal in over four years.
Steering home Raheem Sterling's cross with a typically predatory finish, Defoe opened the scoring in the 2-0 World Cup qualifying win over Lithuania at Wembley.
Well aware it wasn't just Hodgson who regarded him as yesterday's man, it was a cathartic moment for Defoe.
"I never gave up. Never once did I think, 'I'm going to retire from international football'," he said.
"With the previous manager I didn't really feel I was getting the opportunity.
"Last season I was scoring goals, but I wasn't selected for the Euros even though I finished the season strong.
"I've worked so hard and I still feel sharp. I always thought if I did get selected I could still score goals at this level."
Most Popular
Highlights
What's Hot