Asian expansion on the table
Women's game puts China in the frame following Singapore sojourn
SINGAPORE - When Dennis Taylor pocketed the final black to defeat Steve Davis in the 1985 World Snooker Championship final, 18.5 million British television viewers were glued to their sets at half past midnight to witness the sport's most defining shot.
The Northern Irishman upset the odds after two days of gripping drama to topple three-time champion Davis 18-17 and help snooker reach the zenith of its popularity in a match that is still talked about 32 years later.
In a similarly engrossing outcome to the Ladies' World Snooker Championship in Singapore on Monday morning, Hong Kong's Ng On-yee pocketed the final pink to edge out India's Vidya Pillai on her way to a 6-5 triumph and a second global title.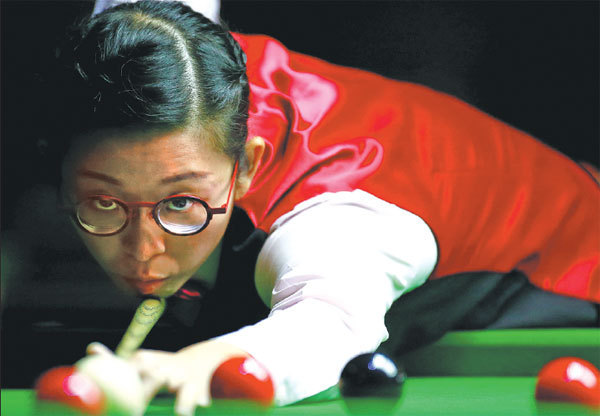 Ng On-yee of Hong Kong takes aim during her Ladies' World Snooker Championship semifinal victory over England's Reanne Evans in Singapore on Sunday. Ng went on to beat India's Vidya Pillai in the final to claim her second world title.[Photo/Agencies]
The tense finish is where the similarities end, however, as unlike the packed house at The Crucible all those years ago, a scattering of hardy souls at the venue and 3,365 viewers watched Ng seal victory on a live YouTube stream at 1:30 am.
The 26-year-old spent 12 grueling hours at the table to first beat 11-time world champion Reanne Evans in a final-frame decider before grinding down Pillai in a war of attrition, fueled by a box of energy bars and an unrelenting will to win.
For a sport played on tables, the top women have been feeding on scraps for decades.
The fact Ng's success barely made the sports pages is evidence of how much work the World Professional Billiards and Snooker Association needs to promote the women's game.
Jason Ferguson is chairman of snooker's governing body and the former professional, undeterred by the challenge ahead, is unwavering in his mission to turn the women's tour into a profitable venture through exposure and participation.
"It's only our first year looking after the women's tour but we have already seen an increase in prize money and activity," Ferguson said at the Lagoon Billiard Room, venue for the world championship.
"The women's game was run originally by a voluntary organization, predominantly in England for many, many years. There's only so much volunteers can do and we needed to put some infrastructure in place to make it work."
Chinese focus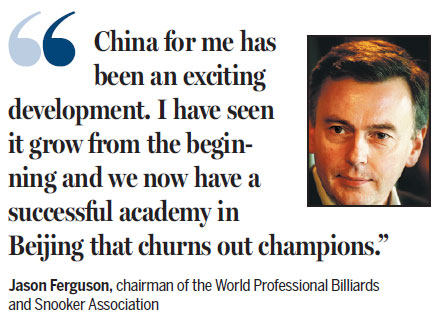 Perhaps aware of the popularity of cue sports in Asia, the WPBSA gambled on taking the women's finals out of Britain for the first time in more than two decades, and Ferguson believes there is a strong enough case to keep the event in the region.
"With the help of a local promoter we've managed to bring the world championship to Singapore. I have to say it has opened my eyes a little bit in terms of the number of players that want to compete in this part of the world," he said.
"We are looking hard in this region at the moment, particularly this event. We are more likely to move it around Asia in the future, possibly China," Ferguson said when asked if a return to Singapore for 2018 was likely.
"China for me has been an exciting development. I have seen it grow from the beginning and we now have a successful academy in Beijing that churns out champions. That proves that with the right facilities, you can create great players."
For today's players, though, the trip to Southeast Asia was fun but expensive.
Germany's Diana Schuler, for example, said that competing on the circuit was more a labor of love, and that the $370 she won for reaching the last 16 would only soften the blow to her bank balance.
Ferguson, however, is confident that greater participation will lead to greater entertainment, ultimately resulting in more revenue and stemming the talent flow away from the sport in search of better possibilities.
"The one thing that we have worked out is that if we can provide entertainment that people will want to watch then the television and viewers will come," he said.
"We have had some great players, like Allison Fisher and Kelly Fisher. These women could compete on the open tour but we lost them to American pool because they had more lucrative events to play both in the US and Asia.
"Once they started winning money, they've tended to stick to it.
"We have to make sure we provide both opportunities to compete and prize money where a core number of players can compete regularly on a full-time basis."
Agence France-Presse
Most Popular
Highlights
What's Hot