Yao Ming relives basketball memories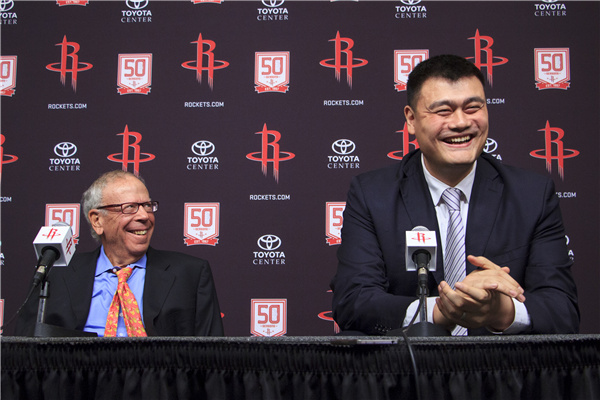 Yao Ming and Houston Rockets' owner Leslie Alexander chat on Friday about the journey they took together in basketball. [Photo by May Zhou/China Daily]
Yao Ming told an emotional story about his first Chinese New Year away from home in 2002.
Yao, who returned to Houston for the retirement of his No. 11 NBA jersey by the Rockets, said he was tricked into showing up at what was then the Compaq Center, where his teammates surprised him with traditional red envelopes.
There was only a $2 bill inside each one, but Yao treasured the gesture.
"I still have one of those $2 bills inside my pocket, and I carried it since then," Yao said, as the crowd cheered. "Because I know no matter where I go, as long as that bill's in my pocket, home is with me."
On Friday night, Yao's jersey joined five great Houston Rockets players on the rafters of the Toyota Center.
In a day of reflection and celebration, Rockets' owner Leslie Alexander said he thought Yao's career was cut too short, and that he could have brought the team several more championships.
"Well obviously, we only retire really, great, great players," Alexander said. "Yao was a great, great player. I wanted him to be viewed as more than that, as an ambassador to the world and especially into China, and what a great person and humanitarian he is."
The 7-foot-6 Yao was with the Rockets for eight seasons and averaged 19 points and nine rebounds a game. He was elected to the basketball Hall of Fame in April.
Most Popular
Highlights
What's Hot