Chapeco rises from ashes of tragedy
Rebuilt Brazilian club returns two months after horrific air crash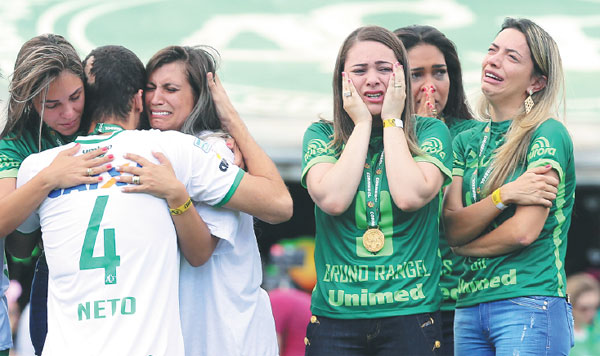 Before Saturday's charity match against Palmerias at Arena Conda, Chapecoense player Helio Neto, who survived when the plane carrying the Brazilian squad crashed in the Andes in November, is greeted by relatives of teammates who perished. [Photo/Agencies]
Chapecoense, the up and coming Brazilian soccer club decimated by a plane crash, proudly strode back on the field on Saturday with a new lineup for its first match since the November tragedy.
The team took the field amid intense public and media attention at 20,000-seat Arena Conda stadium, which was decked out in the home side's green and white.
A total of 241 journalists from around the world were accredited for the match, but the stadium was not full. Tickets priced at $25 at a time of dire unemployment in Brazil kept some away.
The game against Palmeiras ended in a 2-2 draw.
Before kickoff, the three survivors of the crash that killed their teammates received the Copa Sudamericana trophy - the honor the team had been vying for when it was wiped out in the crash - to sustained applause.
Widows of the players killed then filed onto the pitch to receive medals on behalf of their husbands in an emotionally charged ceremony.
"I'm sure that those who have left us, if they are watching, would feel happy," one of the survivors, leftback Alan Ruschel, told a media conference before the game.
The team's plane went down on Nov 28 in mountains near Medellin, Colombia, as the team was flying in to play Atletico Nacional in the final of the Copa Sudamericana tournament.
Of the 77 people aboard, 71 were killed, including 19 players and 24 other club officials.
In the 71st minute of the game, the stadium's crowd was asked to stand and clap in homage to the victims - the beginning of a tradition for all home games that will be played by Chapecoense.
Raphael Veiga opened the scoring for Palmeiras before Douglas Grolli put Chapecoense on the board with a goal that drew huge cheers from the crowd.
The rebuilt team went ahead 2-1 when Amaral added a second goal before an equalizer came from Vitinho to make the final score 2-2.
Most Popular
Highlights
What's Hot