Argentina's Tevez settling into role with Shanghai Shenhua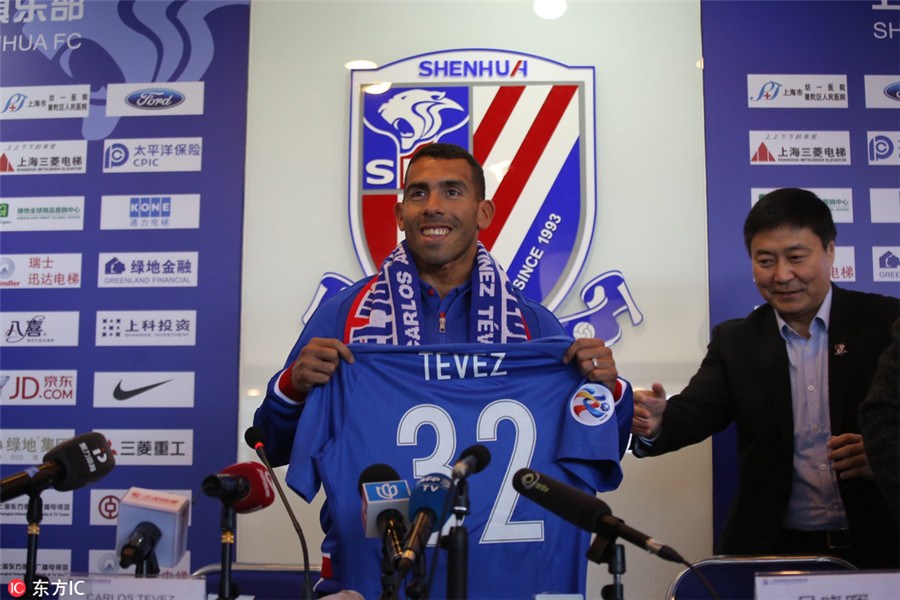 Argentine striker Carlos Tevez meets with press in Shanghai on Jan 21, 2017. [Photo/IC]
SHANGHAI — Argentine striker Carlos Tevez said Saturday he's settling in with Chinese Super League squad Shanghai Shenhua as training gets underway ahead of the season opening in March.
Tevez last month became the latest in a procession of star players to make the move to China after Shenhua paid a reported $11 million transfer fee to Argentine club Boca Juniors.
Meeting with reporters on Saturday, Tevez declined to offer financial details, but a person familiar with the negotiations said he is being paid $40 million over two years.
He said he'd been moved by the sincerity of Zhou Jun, the club's deputy general manager, who met with Tevez in Argentina to discuss arrangements.
That feeling was reinforced by the warm reception he received from fans upon arriving in Shanghai on Friday, the 32-year-old said.
"I have a new home," he said.
Tevez said he shared a "similar football philosophy" with Shenhua coach Gus Poyet, the former Sunderland and Real Betis manager who joined the club in November.