Deadly Diego Costa defuses discord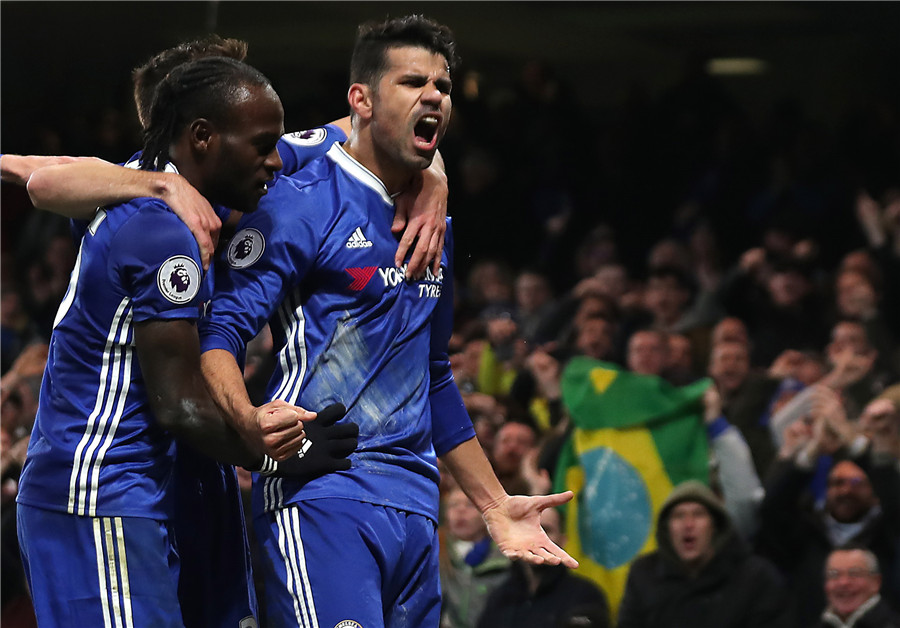 Diego Costa celebrates scoring Chelsea's first goal against Hull City in their English Premier League match at Stamford Bridge on Sunday. [Photo/Agencies]
China-linked Costa nets as Blues boss bids to bury exit speculation
Chelsea manager Antonio Conte hailed his team's united front after Diego Costa marked his return with a goal in a 2-0 victory over Hull City on Sunday.
Absent from the Blues' win at Leicester amid reports of a split with Conte after being supposedly being unsettled by an offer from China, Costa celebrated his opener with a hand gesture suggestive of media chatter.
Conte claimed not to have seen the celebration, but, after Chelsea stretched its lead to eight points at the top of the Premier League, the Italian was confident the matter had been put to bed.
"Honestly, I didn't see it because I was celebrating on the bench," Conte said.
"When we score goals, sometimes my celebrations are very dangerous for my staff! It's important to score the goal and to celebrate in any way.
"It's important Diego played a good game and I hope with this game to finish the speculation about him, about Chelsea, about me and him.
"Because I think we showed that we are a team with a great unity and I think this is the real value, because we stay top of the table."
Costa notched his 15th goal of the season from a Victor Moses cross in the seventh of nine minutes of first-half stoppage time, which was added because of a serious head injury to Hull's Ryan Mason.
It was later revealed Mason underwent surgery on a fractured skull.
The Costa speculation is unlikely to vanish, with reports suggesting he will leave in the summer.
However, Conte said he was more worried about preserving Chelsea's position in the league than about his striker's long-term future.