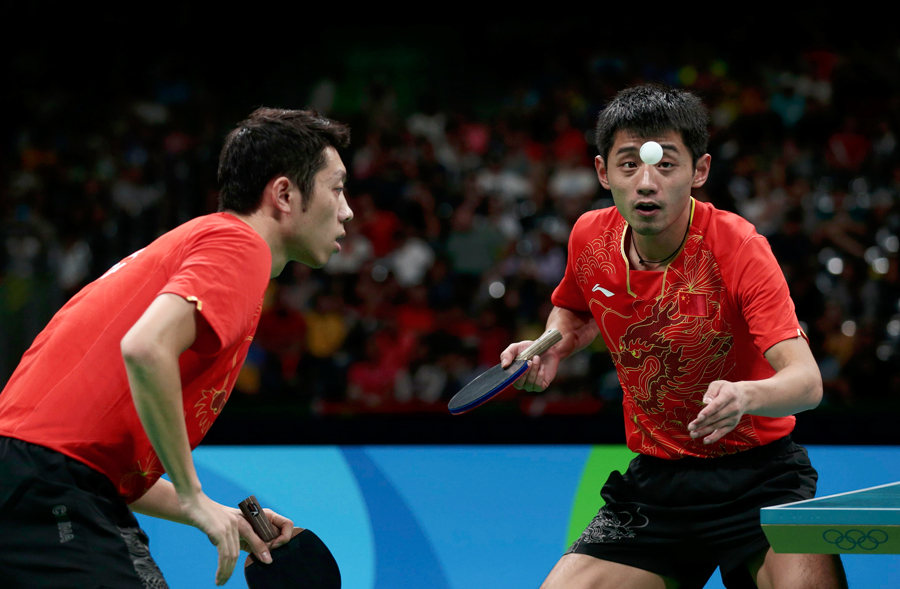 Xu Xin and Zhang Jike of China play against Joo Se-Hyuk of South Korea and Lee Sang-Su of South Korea. [Photo/Agencies]
RIO DE JANEIRO - Table tennis powerhouses China have been ready to repeat the gold medal sweep in the 2016 Rio Olympic Games, just as they did in Beijing and London, after both men's and women's team reached the finals on Monday.

With Grand Slam winners Zhang Jike and Ma Long playing the opening two singles, the Chinese men's team beat last edition's silver medalists South Korea in three straight sets.

In Wednesday's final, they will take on Japan, who outclassed former world and Olympic runners-up Germany 3-1 in the other semifinal on Monday.

China have won the Olympic team title twice since the team event was introduced to Beijing 2008, while Japan just made history by reaching the men's final for the first time.

Zhang drew first blood in Monday evening's semifinal against South Korean top-ranked Jeoung Youngish, who forced a 13-13 tie in the first set and won it 15-13 before Zhang pulled one set back 13-11.

Overcoming a sudden injury midway through the third set which he lost 11-9, Zhang, who was declined a medical timeout by Lebanon umpire Imad Merheb, launched a late comeback with his trademark backhand play and fewer errors to win the last two 11-8, 11-4.

The following games went smoothly with Ma Long breezing past 36-year-old South Korean chopper Joo Saehyuk 11-1, 11-4, 11-4 and Zhang Jike pairing up with penholder Xu Xin to defeat Jeoung and Lee Sangsu 11-8, 12-10, 11-6.

Earlier on Monday morning, the Chinese women's team claimed another 3-0 victory over former runners-up Singapore to set up a final clash on Tuesday with Germany.