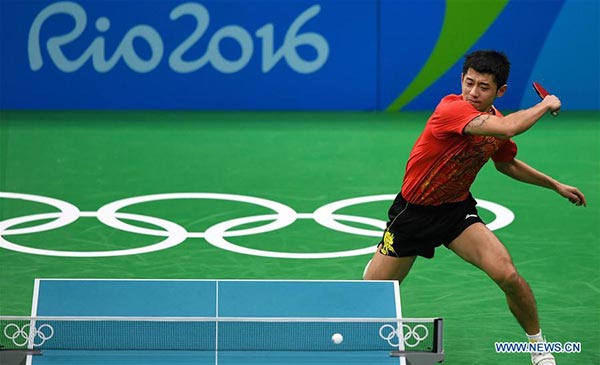 China's Zhang Jike returns the ball against Vladimir Samsonov of Belarus during men's singles semifinal of table tennis at the 2016 Rio Olympic Games in Rio de Janeiro, Brazil, on Aug. 11, 2016. Zhang Jike won 4-1.[Photo/Xinhua]
RIO DE JANEIRO - Table tennis Grand Slam winner Zhang Jike is just one step away from defending his Olympic men's singles gold medal after smashing Vladimir Samsonov 4-1 here on Thursday to set up an all-Chinese final with Ma Long.
Earlier on Wednesday morning, world No. 1 Ma overcame a late stumble to beat sixth-ranked Japanese Jun Mizutani 4-2 in the other semi clash.
"I'm more than satisfied with Ma and Zhang's performance," commented Liu Guoliang, head coach of the Chinese national team. "I think it's more important for our players to show audiences the best table tennis than making sure a 1-2 finish ahead of the final."
Zhang, 28, triumphed 11-9, 13-11, 12-10, 6-11, 11-9.
A faster and heavier hitter than the 40-year-old veteran of Belarus, the second-seeded Zhang won almost all forehand rallies except an edge ball from Samsonov in the third set while the former leading 7-6.
After granting the fourth set 11-6, Zhang hesitated no more and led 5-1 in the decisive fifth before he forced his six times Olympian opponent to return it wide to win 11-9.
"Vladimir is still capable of controlling a game with his experience and understanding of table tennis despite his age," said Zhang. "It has been the most intense game of mine so far in this Olympics."
On Thursday evening, the Chinese duo will face off against each other with Zhang trying to complete a second request of Grand Slam victory and Ma, the 2015 world champion and twice World Cup holder in 2012 and 2015, fighting for his first Olympic singles gold.