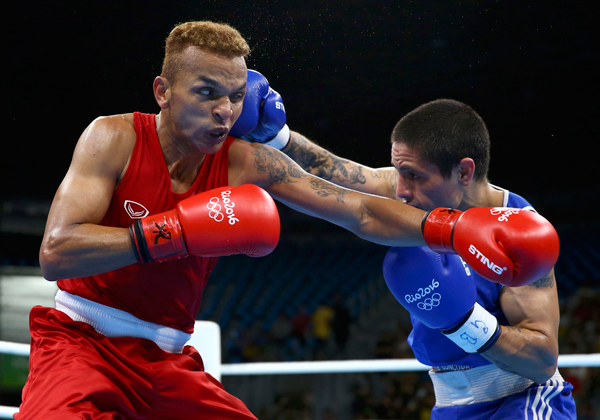 Thailand's Amnat Ruenroeng is hit with an overhand right from Argentina's Ignacio Perrin during their lightweight bout in the opening round of the Olympic boxing tournament on Sunday. Ruenroeng, a former world champion in the pro ranks, won on points but was eliminated by France's Sofiane Oumiha on Monday. [Photo/Agencies]
The three professional boxers that bucked 112 years of amateur competition in the Olympics have all been eliminated from the tournament.
Cameroon's Hassan N'Dam, Thailand's Amnat Ruenroeng and Italy's Carmine Tommasone are history.
Ruenroeng, a former IBF world flyweight champion who defeated China's Zou Shiming in a pro title fight last year, was the last to be eliminated. Sofiane Oumiha of France battered him over the final two rounds before their lightweight bout was stopped on Monday night.
Ruenroeng took three standing eight counts.
Tommasone lost a unanimous decision to Cuba's Lazaro Alvarez in a lightweight bout earlier on Monday, while N'Dam was ousted on the weekend.
The three were not exactly the big professional names the International Amateur Boxing Association hoped would compete when it decided earlier this year to allow any boxer to attempt to qualify for the Olympics.
Floyd Mayweather stayed retired. Manny Pacquiao never budged from his role as a Philippine senator. Amir Khan didn't try for another medal run.
Eight years after Ruenroeng fell just short of a medal in Beijing, the 36-year-old was totally dominated by the 21-year-old Oumiha.
"It doesn't change anything if it's professional or not," Oumiha said. "I've been working for the Olympics and am well prepared to fight and win."
Ruenroeng, who served 15 months in a Thai prison for robbery, won two bouts at the 2008 Beijing Games but fell one fight short of a medal in the light flyweight division.
Ruenroeng and Tommasone each opened the Rio tournament with victories.
Tommasone, 32, never found his stride against Alvarez, a three-time world amateur champion in two weight classes.
"He was just better than me," Tommasone said.
"I consider them professional amateurs. They are professional three-round fighters. I tried to adapt to the three-round matches, but it was difficult."
Tommasone fights pro as a featherweight (126 pounds), but chose the 132-pound lightweight division for the Olympics, making it easier to deal with daily weigh-ins.
But the three-round bouts, combined with injury concerns and the demands of daily weigh-ins in a multi-fight tournament all played a role in keeping more pros from changing their pursuit from championship gold around their waist to Olympic gold around their neck.
There were also some fears in the boxing community that the tournament would have been full of lopsided matchups had the likes of Canelo Alvarez and Gennady Golovkin signed up.
As it turned out, the amateurs are the last ones left fighting.