Gymnasts have among the shortest career spans of any athletes, and few make it to more than two or, at the very most, three Olympics. But Uzbekistan's Oksana Chusovitina is taking part in her seventh.
In a sport overpopulated by tiny teenagers, 41-year-old Chusovitina has kept her body "lean and mean" for more than four decades so that she can compete against rivals younger than her 17-year-old son Alisher.
"When I compete ... if they gave a few more marks for age it would have been great," Chusovitina said on Sunday.
There was certainly a lot of love at Rio Olympic Arena for the oldest gymnast ever to compete at a Games.
The cheers were loud and prolonged when the venue's MC introduced the Uzbek as "a living legend" and the volume went up a few notches as she sprinted down the runway before launching into her first vault.
A hop back on landing did little to dampen the mood and a score of 15.166 proved that she was not in Rio to simply celebrate competing at a record seventh Games for a gymnast.
Wearing a pink and white shimmering leotard, her toned arm muscles were on full display as she lifted off for her second vault, which earned her 14.833.
Having competed in the first of five groups of the day, Chusovitina faced a long wait to discover if her average score of 14.999 was good enough to make the eight-woman apparatus final.
She eventually made it to the final.
"I really love the sport, I love to give pleasure to the public. I love to come out and perform for the public and for the fans," said Chusovitina, who was a member of the triumphant Unified Team, representing former Soviet republics, in her Olympic debut in 1992.
She has also competed under the flags of the Soviet Union and Germany during her distinguished career.
Asked how she rated her performance, she replied: "I'm alive, I'm well and that means everything's OK."
While Chusovitina does not think what she is doing is that remarkable, 1996 Olympic champion Kerri Strug of the US said it was unbelievable that one of her contemporaries is still going strong.
"Kudos to her for being so disciplined with her diet - staying lean and mean at that age. It only gets harder to compete with these youngsters but she's doing it," said Strug.
"She's had a child, and to keep getting into a leotard and stay in such phenomenal shape, to be able to bear all that pounding over the years, I don't know how she does it."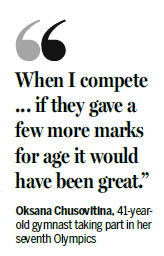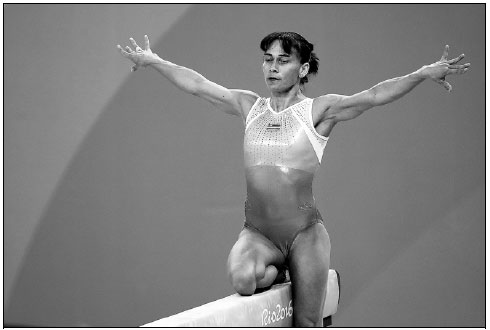 Uzbekistan's Oksana Chusovitina performs on the balance beam during Sunday's qualifying round in artistic gymnastics, Dmitri Lovetsky / AP