WASHINGTON - NBA announced Thursday that Stephen Curry of the Golden State Warriors and forward LeBron James of the Cleveland Cavaliers, Oklahoma City Thunder guard Russell Westbrook and San Antonio Spurs forward Kawhi Leonard and Los Angeles Clippers center DeAndre Jordan were selected as 2015-16 All-NBA First Team.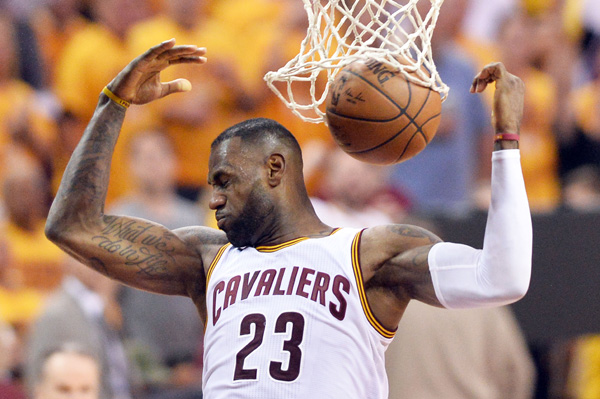 Cleveland Cavaliers forward LeBron James (23) dunks during the third quarter against the Toronto Raptors half in game five of the Eastern conference finals of the NBA Playoffs at Quicken Loans Arena. [Photo/Agencies] 
Curry is the only unanimous pick from all 129 ballots, earning First Team honors for the second straight year. James has been named to the First Team for the 10th time in 13 seasons, tying seven players for the second-most selections in NBA history.
The All-NBA Second Team is composed of forwards Kevin Durant of the Thunder and Draymond Green of the Warriors, center DeMarcus Cousins of the Sacramento Kings, guards Chris Paul of the Clippers and Damian Lillard of the Portland Trail Blazers.
The All-NBA Third Team consists of forwards Paul George of the Indiana Pacers and LaMarcus Aldridge of the Spurs, center Andre Drummond of the Detroit Pistons, guards Klay Thompson of the Warriors and Kyle Lowry of the Toronto Raptors.