MADRID - Only by Barcelona's incredibly high standards can winning back-to-back doubles seem like a disappointment.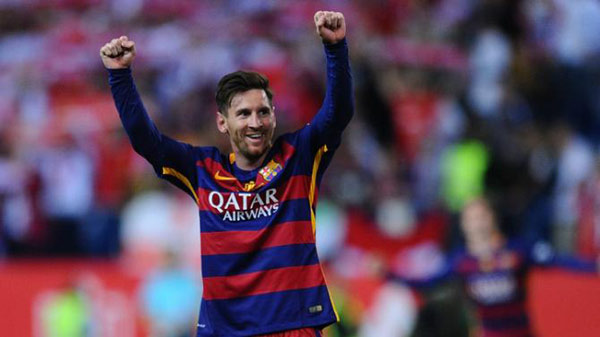 Barcelona "suffered" but stayed strong as a team to win the domestic double again, Lionel Messi has said.  [Photo/Agencies]
The team led by Lionel Messi added the Copa del Rey to its Spanish league title on Sunday, but fell short of repeating its treble from last season. The ultimate goal, winning yet another Champions League title, ended at the hands of Atletico Madrid in the quarterfinals.
"It was a positive season, we have won four of six titles," Barcelona coach Luis Enrique said. "We had a challenge to win everything again but, unfortunately, it wasn't possible. Your opponents have a say as well."
Barcelona was trying to win its third treble of the decade, a feat it achieved last season and in 2008-09 under coach Pep Guardiola.
On Sunday against Europa League champion Sevilla in the Copa del Rey final, the Catalan club won 2-0 in extra time. Barcelona also won the European Super Cup and the Club World Cup this season.
Not bad for most clubs. But not for Barcelona, which has won 27 titles in the last decade, and seven in the last two seasons.
"It was a very good season. You cannot always win the treble, but the double is a great season," said Barcelona defender Jordi Alba, who scored the decisive goal on Sunday seven minutes into extra time at the Vicente Calderon Stadium in Madrid. "But we and the fans have to appreciate the titles we are winning with our level of play."
According to local media, nearly 50,000 fans went to the Camp Nou stadium in Barcelona on Monday night to celebrate with the team at a party filled with music, fireworks and speeches by the players.
It was the seventh season in the last decade in which Barcelona won at least two titles, and the seventh time in team history that it won both domestic trophies in the same season. The team also went 39 games without a loss to set a Spanish record for most unbeaten games in a row.
"The team's trajectory in recent years is magnificent," Barcelona central defender Gerard Pique said. "We want to keep winning titles and adding to our honors."
Team president Josep Maria Bartomeu published an open letter to fans praising the team's achievements.
"Four great trophies, something no other team has achieved this year," he said. "In a few years' time, when the history books are revisited, the statistics will show that this has been a great season. Trophies are important, that is true, but they are not everything; we have seen once again that Barca is a different club, unique and the best in the world."
Over the last decade, Barcelona has won seven league titles, four Copa del Rey trophies and six Spanish Super Cups. Barcelona also dominated internationally, winning four Champions League titles, three European Super Cups and three Club World Cup titles.
"This team did not have to prove anything," said Luis Enrique, who has won seven of nine titles in his first two seasons. "They keep winning with different coaches. They have fun doing what they do. They know how to overcome adversity."
Besides missing out on the Champions League title, Luis Enrique also lost the Spanish Super Cup last year.
The coach vowed to do better, and he just might if Messi, Neymar, Luis Suarez and Andres Iniesta all stick around and keep performing.
"We have a squad that can keep winning," said Iniesta, who along with Messi has won 28 trophies with the club, "and we can be optimistic for the future"