KUNSHAN - South Korea beat China 3-1 in the quarter-finals of the 2016 Thomas Cup, sinking the host's hope to regain the title they lost two year ago.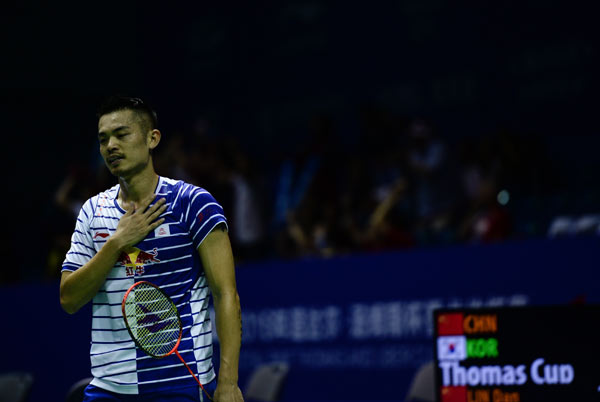 China's Lin Dan reacts during the quarter-finals of the 2016 Thomas Cup in Kunshan, East China, May 19, 2016.  [Photo/Xinhua]
It is the first time for China being eliminated in the last 8 since they participated this tournament in 1982.
Top-ranked Chen long lost to Sun Wan Ho 21-12,16-21,21-15 in the first singles, suffering the same nightmare two year ago in Incheon where China were defeated 3-2 by South Korea in the team final.
"I think I was impatient tonight specially in attack. I had a good start in the decider, but after that I lost my rhythm due to impatience." said Chen.
Fu Haifeng/Zhang Nan had a chance to tie the match for China, but world No.1 Lee Yong Dae/Yoo Yeon Seong won 23-25, 23-21, 21-12 to give South Korea a 2-0 lead.
Lin Dan, the two time Olympic champion, rescued China by outplaying Lee Dong Keun 21-10, 21-15 in the third match. However, South Korea qualified for semis through Kim Gi Jung/Kim Sa Rang's 21-15, 21-18 victory over Li Junhui and Zheng Siwei in a 32-minute game.
Thanks to strong singles performances from Victor Axelsen and Hans-Kristian Vittinghus, eight-time runner-up Denmark reached the Thomas Cup semis by edging defending champion Japan 3-2.
In the early matches, Lee Chong Wei led Malaysia, which is seeking to end their 24-year drought at the world team championships, to a 3-1 cruising past Chinese Taipei.
Friday will see Malaysia play against Denmark and South Korea face up Indonesia, which beat Hong Kong, China 3-1.
In the women's Uber Cup, unbeaten China recorded a convincing 3-0 victory against Chinese Taipei. Japan booked its semifinal place with a 3-0 rout of Denmark while India scored a 3-1 win over Thailand.
Defending champion China will meet India in the semifinal as South Korea will challenge the 2014 runner-up Japan.